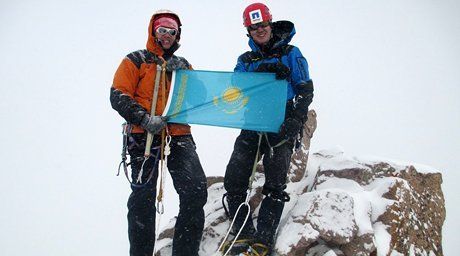 Photo:Maksut ZhumaevAlpinists from Almaty Central Army Sports Club planted a national flag on top of Nursultan's peak in Zailiyskiy Alatau mountain range to celebrate the First President`s Day, reports tengrinews.
Maksut Zhumayev, Alexander Rudakov and Boris Dedeshko climbed the peak on November 29.
"A month ago I proposed to organize an expedition to Nursultan's peak and to plant a national flag in support of this holiday and within the framework of "Flag on the Peak" project", said Zhumayev.
He also noted that climbing Nursultan's peak is a community-minded campaign that would help to attract people to live healthy and go in for outdoor activities. "We believe, our actions would help to promote a positive image of this day. There is no need to celebrate it on the city squares, instead it would be nice to organize sports activities, particularly, alpiniad. But so far nobody is supporting our initiative," said the alpinist.
WKT
December 1 2012, 17:26