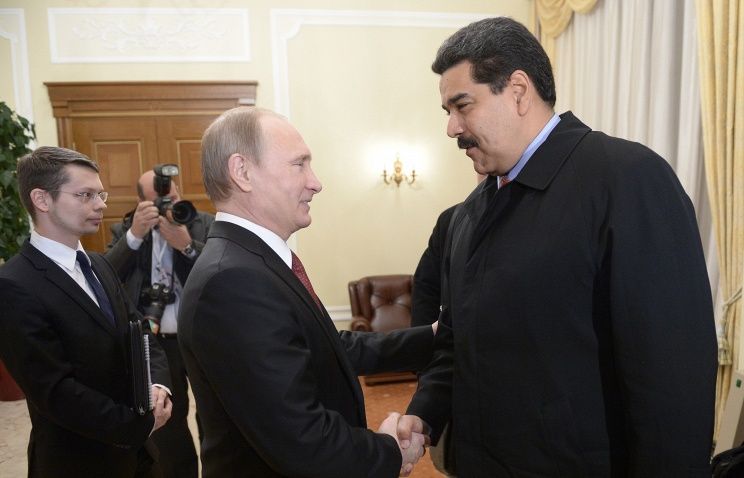 Vladimir Putin and Nicolas Maduro. Photo:Itar-TassVenezuela and Russia have reached an agreement to step up investment and participation of Russian companies in development of Orinoco Belt oil reserves and other projects, Venezuelan President Nicolas Maduro said on Thursday after a meeting with Russian President Vladimir Putin in Moscow.
The press service of the Venezuelan presidential administration cited the president as saying the step was part of a plan to protect the oil market and strengthen the strategic alliance with Russia in the energy sector, itar-tass.com reports.
An agreement was also reached on investments in equipment to extract and refine oil.
The two presidents discussed energy, trade, agricultural production, infrastructure development, housing, cultural cooperation and financing, the press service said.
When meeting with Maduro on Thursday, Putin said Venezuela was a close friend and partner of Russia.
Maduro assured that Venezuela would be always with Russia.
Last week, the Venezuelan president visited OPEC member states and China and had talks with their leaders with the aim to continue efforts to restore world oil prices.
On the way to China on January 5, the Venezuelan president's plane landed at Moscow's Vnukovo airport where he met with Russian Deputy Foreign Minister Sergey Ryabkov.
Russia and Venezuela are developing cooperation in various sectors, including military technical, energy, industrial cooperation and housing construction.
Venezuela produces three 3 million barrels of oil a day and exports 2.5 million, mainly to the United States and China. It is the world's fifth oil exporter. The country's oil reserves are estimated at almost 300 billion barrels. Most of the reserves are in the Orinoco Belt.
January 16 2015, 12:14