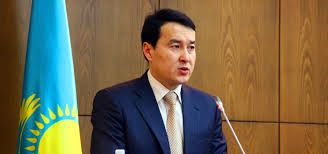 Statistics Committee Chairman Alikhan Smailov Growth in Kazakhstan's gross domestic product probably slowed to 4.3 percent last year from 6.0 percent in 2013 as prices fell for its key exports, oil and metals, early official data showed on Wednesday.
The resource-rich nation of 17 million is Central Asia's biggest economy and the second-largest former Soviet oil producer after Russia.
"Certainly, falling prices for oil and some metals have an impact on Kazakhstan's economy, in particular on our exports which in the first 11 months of 2014 declined by 6.7 percent," Statistics Committee Chairman Alikhan Smailov told a news conference, presenting last year's economic results.
"Minerals and metals account for 90 percent of our exports," he said. "In its turn, this affected the volume of industrial production."
Growth in Kazakh industrial output slowed to 0.2 percent last year from 2.3 percent, the Statistics Committee said on Tuesday. Oil production fell by 1.2 percent to 80.8 million tonnes, it said at the time.
The mining industry, which usually drives growth in the economy, reduced output by 0.3 percent last year, Smailov said.
The government expects the economy to growth to pick up to 4.8 percent this year, but if oil and metal prices continue to fall on world markets, the cabinet may have to revise its outlook, Smailov said.
The government forecasts the average price for Brent oil, on which its budget calculations are based, will be $80 per barrel this year.
As of 1002 GMT on Wednesday, Brent crude traded at $46.44 per barel.
January 14 2015, 17:50