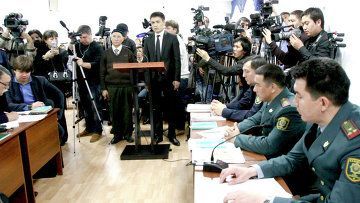 The second lawyer of V. Chelakh, a Kazakh frontier guard accused of killing 15 people, Serik Yestiyarov did not show up at the court session on Friday.
His secretary said he was unable to come due to feeling unwell.
As previously reported, on Thursday, November 29, Chelakh's main attorney of defense Serik Sarsenov left the court session citing sickness and departed for Almaty to receive treatment.

Public prosecutor claimed the laws do not allow continuing court sessions in absence of defense lawyers.

"Due to absence of Lawyer Yestiyarov court announces break until 9.30 on December 4" said Judge Yerbol Akhmetzhanov.
Previously, after Sarsenov left, the defendant Chelakh had expressed protest over continuation of court without the main advocate.
"I am against continuation of court without lawyer Sarsenov. We have our line of defense, he has been protecting me at the preliminary investigation and in the court" stated Chelakh.
He also said that lawyer Yestiyarov had not seen all materials of the case.
Yestiyarov, himself, had requested the court to announce break until recovery of Sarsenov, citing he was not fully acquainted with the case materials.

Owing to a relevant permit, lawyer Yestiyarov was engaged in the process to represent the interests of the accused during consideration of case materials with secret details, as Sarsenov does not have permit.
WKT citing IA Novosti-Kazakhstan
November 30 2012, 12:22