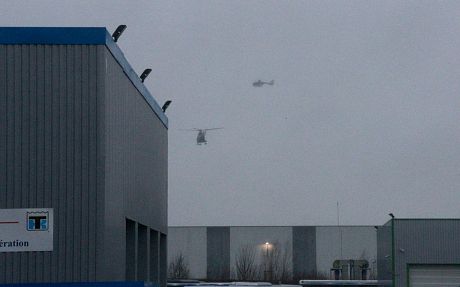 An industrial zone in Dammartin-en-Goele, northeast of Paris.Shots have been fired and at least one hostage has been taken Friday morning in an area northeast of Paris, during a manhunt for two of the suspects involved in Wednesday's attack on the offices of Charlie Hebdo, Agence France-Presse reported. Police had been reportedly chasing a car heading in the direction of Paris, close to the Charles de Gaulle Airport.
At least one person is believed to have been taken hostage by the suspects inside a public works company in Dammartin-en-Goele, about 25 miles northeast of Paris, Le Figaro, a local publication, reported, adding that police have begun negotiating for the hostage's release. Unconfirmed reports of the suspects occupying the offices of a printing business also surfaced. Five police helicopters have been deployed in the area, local media reports said.
"The two individuals have been localized. We are moving towards a denouement," Paris's public prosecutor said, according to The Telegraph, which added that the suspects were holding one person hostage inside a building, and local police had blocked off the exit to the complex that houses the building.
However, a source told AFP that it was not clear how many people were inside the building.
French interior minister Bernard Cazeneuve reportedly said that a major operation is now underway in the area. "We have indications that the terrorists are within our perimeter," Cazeneuve reportedly said. "The national police and the gendarmerie are working to locate them."
The suspects reportedly stole a Peugeot in Montagny Sainte Felicite, 30 miles northeast of Paris, after abandoning their hijacked Renault Clio. Reports of at least one person being killed and several people injured in the manhunt were refuted by prosecutors, AFP reported.
The two suspects now being chased are brothers Saïd and Chérif Kouachi. A third suspect in the attack, Hamyd Mourad, turned himself in to French police Thursday.
January 9 2015, 16:11