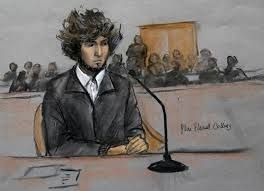 The man charged with the terror attack near the finish line of the 2013 Boston Marathon went on trial Monday in a federal courthouse less than two miles from where two bombs, concealed in backpacks, exploded with devastating force.
Dzhokhar Tsarnaev, in khakis and a dark shirt with sleeves rolled up, watched as Judge George A. O'Toole Jr. addressed batches of prospective jurors and sent them off to fill out questionnaires. Jury selection got underway after defense lawyers lost repeated bids to have the trial delayed or moved out of Boston, nbcnews reports.
As Tsarnaev was led into court for an afternoon session, he appeared to take his seat with a smirk. Prospective jurors glanced at each other and appeared surprised to see him.
Tsarnaev, 21, is charged with 30 criminal counts in the April 2013 bombings, which killed three people and injured 260 others, and in the murder of an MIT campus police officer, Sean Collier, a few days after the bomb attack.
The judge summoned 3,000 people to the federal courthouse on Boston's inner harbor, an unusually large jury pool. In the first phase of jury selection, at least 1,200 are expected to fill out questionnaires over three days this week.
O'Toole said in an order that individual questioning of prospective jurors would begin Jan. 15. He said in court that he expects opening statements around Jan. 26 and that the trial will last three or four months.
Tsarnaev has pleaded not guilty. His older brother, Tamerlan, also accused in the crimes, died in a shootout with police.
Since shortly after the bombings, the younger Tsarnaev has been held at Federal Medical Center Devens, a prison facility on a decommissioned U.S. Army base about 40 miles west of Boston.
January 6 2015, 10:00