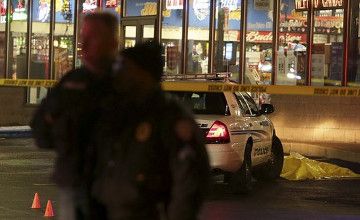 A black 18 y.o. teenager has been shot dead late on Tuesday by police in the US city of St Louis, near where Michael Brown was killed in August triggering national protests.
St Louis County police said the man who was shot had pulled a gun at a petrol station and pointed it at an officer, reuters reports.
A crowd of protesters was at the scene in Berkeley, Missouri, which has been sealed off by police.
Berkeley is about two miles from Ferguson, where 18-year-old Michael Brown was shot dead.
The victim of the Berkeley shooting was named as Antonio Martin, 18, by local media citing his mother.
Police spokesman Sgt Brian Schellman said in a statement that an officer had been conducting a routine check at a petrol station on Tuesday evening when he saw two men and approached them.
He said that one of the men pointed a handgun at the officer, who then fired several shots.
The second man fled, Sgt Schellman said, adding that the handgun had been recovered.
December 24 2014, 17:14