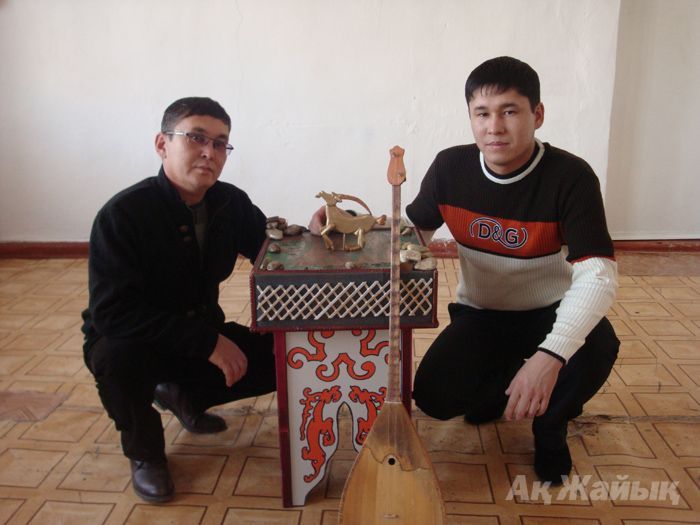 Almaty hosted the 2nd International Festival of Traditional Puppet Art, Orteke-2012, attended by the best performers of Russia, Estonia, Kyrgyzstan and Kazakhstan. Gizat SEITKALIYEV from the village of Inder took the first place winning T500,000 and his townsman Serik NYSSANOV was the third.
The main target of the event is to revive an old Kazakh art of making unusual puppets Orteke (a goat), which is nearly extinct. Our ancestors invented orteke toys to help children develop imagination skills and educate art.
Orteke is a wooden toy in the form of an animal, mostly a baby goat, suspended on threads. A dombra (Kazakh string instrument) player would tie threads to fingers and play twitching the threads at the same time (See video here).
- I've chosen poplar in making my toy. Fruit trees can be used too. Having dried up the tree I carved a puppet and decorated it with pearls. I made sure that all four legs, a head and a tail moved easily, i.e. it could dance. It took me nearly a month to finish. The jury paid special attention to my orteke and distinguished it among the others, says a puppeteer and artist Gizat Seitkaliyev.
It's not enough just to make an orteke; one has to ensure it can dance. A dombra player Serik Nyssanov easily made Gizat's orteke hop to the tune of musical pieces of 'Aksak Kiyik' (Lame Saiga), 'Kyzyl Kain Serper' by Kurmangazy and the national kui 'Kara Jorga.'
Serik says a lot depends on a dombra player. For example, a dexterously made orteke from Aktobe could not be shown to jury in all its glory due to poor performance of a dombra player.
Gizat works in the rural public school and the Inder School of Arts. Serik gives dombra classes in the same school of arts.
They dedicate their leisure time to reviving this traditional art and teach younger generation what they know.
- We intend to widely promote this old Kazakh national art in our region. If we got support from UNESCO, we would possibly get funding from budget. Another thing to add, we wish they would conduct similar contests every year, said the masters.
By Lyazzat KARAZHANOVA
November 29 2012, 12:40