By Laura Suleimenova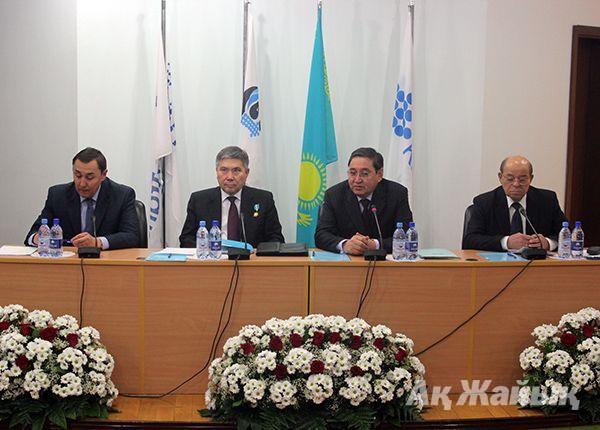 KazTransOil employees' meeting with the first RoK Vice-Minister of Energy Uzakbai Karabalin and the RoK Deputy Minister of Justice Bakytzhan Abdiraim took place in the Western branch office of KazTransOil.
The government officials arrived with the outreach activities to explain the recent President's message.
Trillions into Treasury
Karabalin, in particular, noted a contribution of Atyrau Oblast into national economy: in 2014 the region transferred to the state budget 513 billion tenge in taxes and other obligatory payments, as well as 1 trillion 553 billion tenge to the National Fund. Deputy Governor of Atyrau Oblast Gumar Duysembaev clarified: into the republican treasury and the National Fund the region transferred cumulatively 2 trillion 254 billion tenge. Certainly, first of all the funds came from the oil and gas sector.
Speaking about KazTransOil's work, the Vice-Minister of Energy informed that for ensuring internal energy security the western and eastern pipeline networks have been connected:
- Pipelines are built, now it is necessary to increase their capacity in the future. It will give us the opportunity to send crude from the western regions to Pavlodar and Shymkent oil refineries, and also to deliver to the eastern market, including China. A lot of work is required to be completed on CPC expansion.
Karabalin also said that negotiations with the Russian Transneft are ongoing about pumping crude from the western area of the country via the Russian pipeline, until the work on eastern direction is complete:
- In order for the West Kazakhstan companies to sign contracts for crude delivery to Pavlodar, but in actual fact to deliver it to Samara. And from Samara to re-direct it to the Pavlodar oil refinery. The advantages of the Euroasian system will be implemented in this way.
Stamping? It is optional
Abdiraim reported that within the optimization process three committees in the ministry have been made redundant: on protection of intellectual property, on performance of judicial acts and committee of registration service and legal aid. A number of functions, including civil registration acts have been transferred to local executive bodies.
He also told that his ministry participates in preparation of the new bill on business that has been already approved in Mazhilis and will be allegedly signed at the end of the year. In particular, according to the new law the obligatory registration fee will be cancelled - both during opening and closing of businesses.
The requirement for availability of authorized capital that was, according to the vice-minister, a real barrier to business development, will be removed.
One more innovation.
- Now in order to open a business, one doesn't need a stamp. It will be up to businesses whether they need a stamp or not. The main thing will be your signature. It is the world practice, -said Abdiraim.
Under the new bill the businessmen will not require technical data sheet to register transactions. Besides, as of January 1, 2015 the registration of real estate transactions will be possible to do online.
Photo by the author
December 23 2014, 15:01