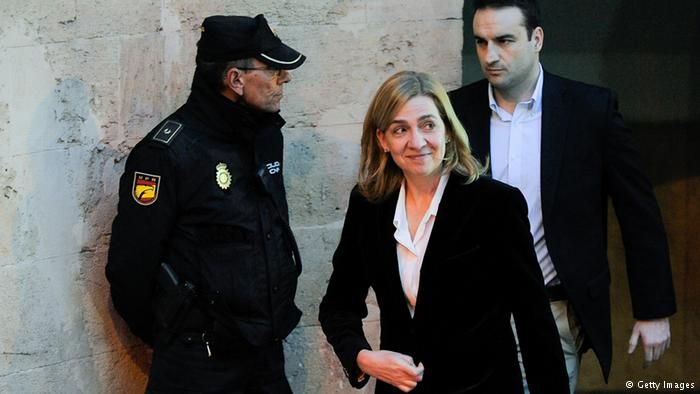 A Spanish judge has ordered Princess Cristina to stand trial on tax fraud charges. This is the first time that a member of Spain's royal family has been ordered to sit in the dock.
Cristina de Borbon, the sister of Spanish King Felipe VI, has been ordered by a judge at a court in Palma de Mallorca to answer two counts of accessory to tax fraud.
The case against the 49-year-old princess stems from an investigation into the business dealings of her husband, former Olympic handball player Inaki Urdangarin, who stands accused of embezzlement.
Authorities are investigating Urdangarin on suspicion of having embezzled six million euros ($7.4 million) in public funds and using his connections to win government contracts through his non-profit organization Noos Foundation, which he headed from 2004-2006. Prosecutors also allege that he committed fraud, tax evasion and falsified documents.
The princess sat on the Noos board at the time that her husband chaired the organization.
Both Princess Cristina and Urdangarin have denied any wrongdoing.
Last month, the High Court of Palma de Mallorca dropped some of the corruption charges against Cristina, but upheld the allegations of tax fraud.
This promises to further embarrass the royal family, which has seen its popularity among Spaniards dip since the judge in the case, Jose Castro, opened his investigation into the couple three years ago.
It also comes six months after King Felipe ascended to the throne after his father, King Juan Carlos decide to abdicate at the age of 76. Felipe promised what he described as an "honest and transparent" monarchy, when he took over from his father on June 19.
After years of enjoying wide respect for his role in transforming the country from a dictatorship to a democracy, Juan Carlos' also saw his personal popularity drop in his final couple of years as king. In 2012, he drew widespread criticism for an elephant-hunting safari in Africa while many Spaniards were losing their jobs as a result of a deep recession.
December 22 2014, 17:38