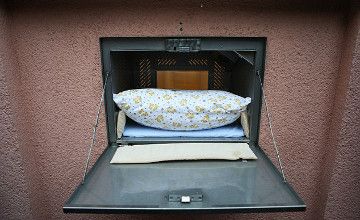 So-called baby-boxes will be installed in Astana for mothers to anonymously drop off unwanted newborns with no questions asked. This will be the new focus of "Ana uyi" Fund. Baby-boxes will help to prevent dozens of deaths of newborn babies abandoned on the streets, azh. kz refers to Express newspaper.
The fund is currently in talks with metropolitan hospitals on the installation of baby-boxes near the buildings of healthcare facilities. It should be noted that the "newborn safe havens" have been already purchased by the social activists.

"These devices are made as pressure chambers with oxygen supply. The incubators are installed in hospitals and can be opened from the inside or outside. Mothers place the baby inside the heated box and can leave it safe in the knowledge that heat sensors will alert a trained medical expert to its presence," said the Deputy Director of the Ana uyi fund Nadiya Borambayeva.
December 19 2014, 10:40