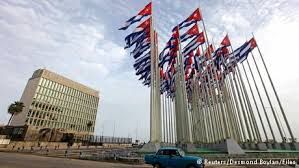 The announcement that diplomatic relations between Cuba and the United States have been revived has been applauded around the world. But there is also skepticism in the US.
Pope Francis and South American leaders were quick to applaud the news, with Chile's Foreign Minister Herald Munoz stating "this is the beginning of the end of the Cold War in the Americas."
The European Union, which resumed dialogue with Cuba in 2013, welcomed what it called "a historical turning point."
Germany's Foreign Minister Frank-Walter Steinmeier spoke of "very good news in these times rich with conflict," and added, "I have great respect for President Obama's courage in ending a policy that endured for more than six decades."
Rapprochement
In coordinated statements issued in Washington and Havana on Wednesday, US President Barack Obama and Cuba's President Raul Castro announced that diplomatic relations between their two countries were to be restored after they'd been severed more than half a century before, in 1961.
In a televised address, Obama said a US embassy would be established in Havana and that economic and travel restrictions would be eased. "Increased commerce is good for Americans and for Cuba," the president said.
Obama also called on Cuba to lift restrictions on its population of 11 million. He said the US wanted to be a part of making the lives of Cubans "more free, more prosperous."
The surprising announcements came after 18 months of talks which involved the personal involvement of Pope Francis at the Vatican.
They preceded by an exchange of prisoners: American Alan Gross, a government contract worker who had been held in Cuba for five years returned home while the US released three Cuban nationals who had been jailed as agents.
In Cuba's capital Havana the news was received with people taking to the streets in celebration of what they hoped was a breakthrough leading to economic revival.
Political and economic fallout
In the United States, Obama received backing mainly from his own Democrat camp, but conservatives across party lines also voiced skepticism.
The former Florida Governor Jeb Bush, who is considering a run for the presidency, was quick to call again for a hard line on Cuba. His sentiment was echoed by fellow Republicans.
"This misguided action by President Obama will embolden the Castro regime to continue its illicit activities, trample on fundamental freedoms, and disregard democratic principles," Republican Ileana Ros-Lehtinen said.
Raul Castro has urged the US to now lift the trade embargo imposed in 1962.
The Cuban government has long blamed most of its economic problems on this. In particular since the collapse of its ally, the Soviet Union, in 1991, Cuba has suffered severe shortages of oil, food, and consumer goods, forcing them to ration everything.
The Obama administration cannot end the trade embargo without support from Congress, where the Republicans will have a majority as of January.
Still, some progress may be tangible soon: US companies in the agriculture, travel, and energy sectors have responded with optimism to the latest news. And with Cubans already receiving $2 billion in remittances from the United Staes each year, Julia Sweig, analyst at the Council of Foreign Relations expects this to increase significantly in the near future.
December 18 2014, 10:18