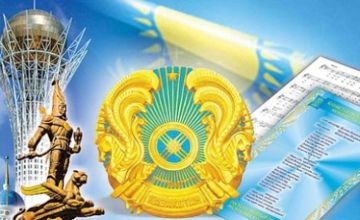 Today Kazakhstan celebrates its Independence Day, the main national holiday of the country. It is the 23rd anniversary of independence of the Central Asian republic.
Kazakhstan attained its independence back to 1991. Since the early 90s due to wise and far-sighted policy of President Nursultan Nazarbayev the Republic of Kazakhstan has earned a remarkable standing in the world and built up a reputation for playing a host to such global events as the OSCE Summit in 2010 and annual Congress of Leaders of World and Traditional Religions, azh.kz reports.
Kazakhstan promotes the non-proliferation movement. The country abandoned the fourth largest nuclear arsenal and shut down the Semipalatisk nuclear test site.
The young Kazakh capital, Astana, won the right to host the international specialized exhibition "EXPO-2017" in Paris where 103 BIE member states supported its bid.
For the past 23 years since attaining independence Kazakhstan under the leadership of President Nursultan Nazarbayev has enjoyed political stability, expanding economy and growing prosperity of the population. The international community considers Kazakhstan as a strategic partner. It also hails Kazakhstan's success in the international arena and the special role of our country in the Central Asian region.
December 16 2014, 13:00