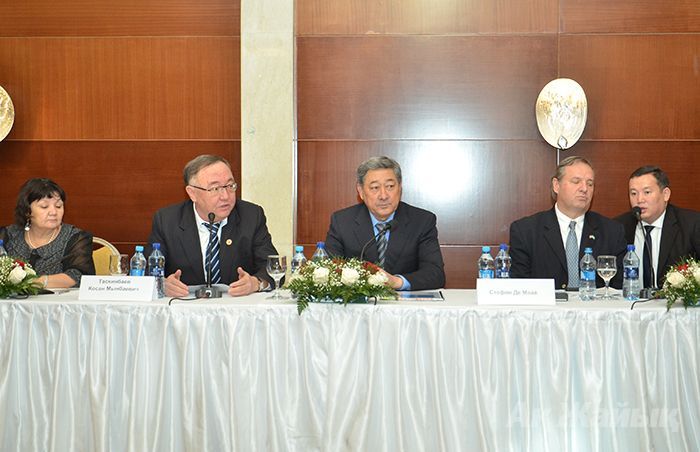 Public hearings on Environmental Impact Assessment (EIA) of the "Construction project of facilities for Kashagan field experimental program. Flowlines. Modifications" were held in Atyrau.
New Pipes Into Old Trenches
Public hearings were opened by the Deputy Governor of Atyrau Oblast Gumar DUiSEMBAEV, but a bit later the meeting was joined by the Governor of Atyrau Oblast Baktykozha Izmukhambetov. In his welcoming speech NCOC managing director Stephan de Mayo, in particular, said about the transition of the consortium to a new management model (see "North Caspian project to have one joint company").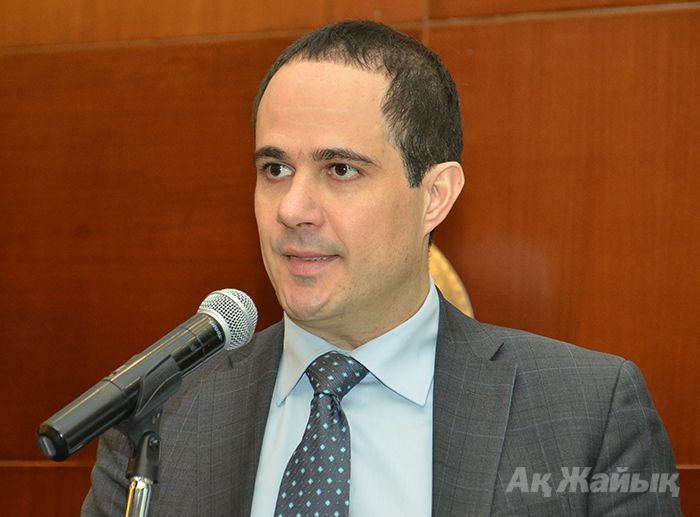 Kashagan project management director Jeancarlo RouiThe report about technical part of pipelines replacement project was made by the Kashagan project management director Jeancarlo Roui. At the beginning he briefly mentioned about preliminary results of root cause investigation of damaged pipelines running from D island to Bolashak plant. According to him, pipelines were damaged due to "sulfide stress cracking".
New pipelines will be made of steel with plating by corrosion-resistant alloy of an abbreviation KSS. The length of each of two 28-inch pipelines will be 96 km. According to Roui, the materials of both previous pipelines, as well as new pipelines conform to operational requirements of sour oil and gas. But the selection of new material is caused by tight schedule of work that are due to start in spring of 2015 and finish in the second half of 2016.(more detailed information is below).
Roui informed that onshore and offshore pipelines will be dismantled and fully replaced. Pipes will be laid in old trenches. Offshore section of old pipelines will stay in place said Roui – "for the time being!" And new pipes will be laid parallel to conserved old ones at the distance of 120 meters. For both pipelines-onshore and offshore the double coating will be provided: anticorrosive and ballast ones.
The length of onshore pipeline section is 65 km and exactly there, according to Roui, is the most problematic part of the pipeline since the depth in that area is 0-1 meter which makes it difficult for vessels to drift with the purpose of welding works.
OPTIMISTS AND SCEPTICS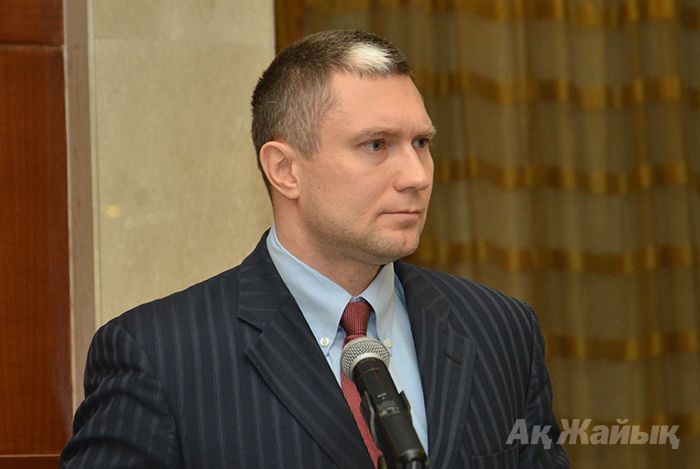 The director of NCOC department of environmental protection, loss prevention, safety and sustainable development Igor LukashovThe director of NCOC department of environmental protection, loss prevention, safety and sustainable development Igor Lukashov presented the EIA during pipeline replacement. From his presentation it followed that since onshore pipes are laid in the existing corridor, the impact on environment will be minimized.
The biggest impact is expected during the construction activities in the sea - increase of water turbidity, change of its physical parameters with corresponding consequences for habitat. As for waste: according to Lukashov, formation of "red" level waste (the most harmful) is not expected.
As for avifauna and sea mammals, the environmental risk for them is estimated by the company as "average" and "low".
According to Lukashov, some damage to ecology will be caused only during construction of pipelines, and during operation they "are rather passive element of the environment, and we are not expecting any impact from them". Sounds unconvincingly, taking into account the fact that current public hearings were initiated by the need to replace the previous pipelines that "started to leak" during operation.
"FLOATING" DAMAGE
Later at the questions-answers session NCOC ecologists echoed Lukashov, who drew public attention to the ability of Caspian Sea biota to rapid self-restoration.
- At times during winter ices travel in such a way that they scrape off everything live, but in spring everything is restored, - stated NCOC ecologist Goulsym Moutysheva.
Probably, based on this assumption, NCOC during the initial laying of pipeline in 2005 assessed the damage that could be caused to bioresources of the Caspian Sea only in $250 thousand. According to Erbolat Kadimov, the regional agricultural department deputy, after lengthy negotiations with the company this figure was increased up to $5 million. He expects from the company that this time the estimated amount of damage will be, at least, two times higher, considering that activities are conducted for the second time, as well as other factors. Moutysheva said that calculation of possible ecological damage from replacement of pipelines is currently being conducted.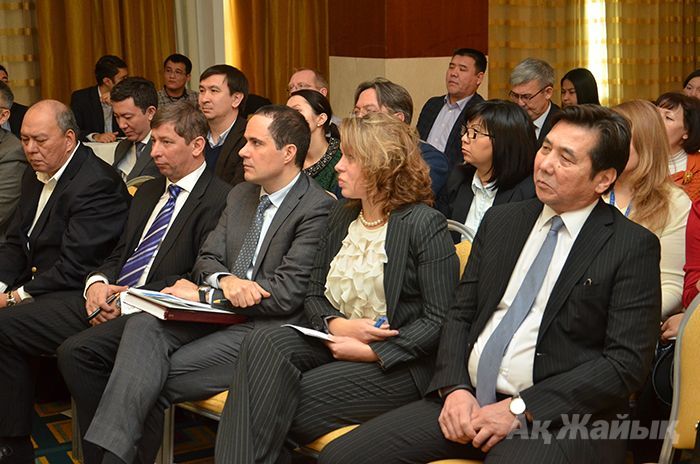 The chief specialist of Atyrau territorial inspection of forestry and fauna Bostan Suleimenovexpressed his concern about the seals that could suffer during replacement of pipelines. Moutysheva said that according to forecasts in the nearest years warm winters are not expected in the Caspi when seals can swim up to coastal sites. And in cold winters these animals are based in deep-water part of the sea where no activities are planned.
BUDGET? SO FAR IT'S A SECRET!
During questions-answers session the representatives of the public didn't share Roui's optimism concerning new materials for the pipeline. The teacher of Atyrau institute of oil and gas, Candidate of technical sciences Rafael Mendybaev:
- In the public hearing documents there is no chemical and technological grounding for the selection of new pipe material, there is no reference to grade of pipe, the manufacturer, or corrosion resistance test data. Where is the guarantee that the new pipe "won't leak"?
Roui again didn't give any specific paramenters. But informed that new pipes contain nickel:
- This material conforms to all international standards and technical parameters of those fluids that will pass through them (sour oil and gas). If we choose unalloyed steel, then it would require time for testing. And this material can be used straight away, it passed the test and is used in oil industry.
Stephan de Mayo added to his answer:
- Cracking took place on the pipe body. During additional examination we noticed that welded seams also had cracks. Another reason was that on some sections the metal had increased hardness.
Final examination results of the reasons of pipeline failure will be provided at the beginning of 2015. We made our conclusions, and during tender for pipe production we dealt with other companies –and not the initial suppliers.
He also informed that according to the arrangement the Kazakhstan party won't incur expenses for replacement of pipelines. S. de Mayo didn't tell the exact budget of this expensive campaign:
- I will not voice any figures until all tender procedures are over and general contractor identified in order to avoid any speculation. I can only say that it will be about several billion dollars. From the Kazakhstan party the bodies that will supervise the activities are PSA LLP (operating 16,8% Kazakhstan shares in the North Caspian project) and Energy Ministry of Kazakhstan.
Photos by Kanat Eleuov
December 11 2014, 17:33