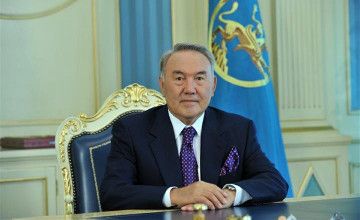 Kazakh President Nursultan Nazarbayev has been named as the 2014 Person of the Year by the Russian Biographical Institute and Institute for Economic Strategies.
As the reasons for the decision, the institutes cite President Nazarbayev's role in the establishment of the Eurasian Economic Union (EEU).

Russian President Vladimir Putin, Belarusian President Alexander Lukashenko and Armenian President Serzh Sargsyan also claimed the award.

It is worth mentioning that Chinese leader Xi Jinping was also crowned the 2014 Person of the Year for the strengthening of economic and political ties with Russia. This is the first time the award goes to a leader of a country that is not a part of the Commonwealth of Independence States (CIS).

The award Person of the Year was founded by the Russian Biographical Institute back in 1993. It acknowledges the most outstanding citizens of the Russian Federation and representatives of other countries.
December 11 2014, 12:17