By Anastassiya Pastoukhova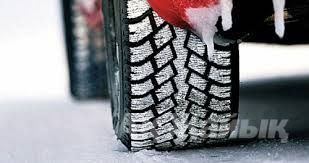 It is the middle of December already, but very few people know that as of January 1, 2015 the traffic police will fine those who hasn't "put on winter tires".
This is connected with that fact that as of the beginning of 2015 the countries of the Customs Гnion will enforce new requirements to operation of cars.
- Beginning from January 1 it will be forbidden to use summer tires during winter period, and studded tires in the summer, - said the department head of road and technical inspection of administrative police Asylbek Boranbaev. - Besides, the restriction on the residual depth of a tire protector will be introduced.
The height of a summer tire protector should be not less than 1,6 millimeters, the winter one - not less than 4. The discrepancy of tires to the season requirements will be considered as car malfunction and vehicle will be forbidden for driving. The size of the fine will be 5xMRP (monthly calculation index) .
December 8 2014, 17:28