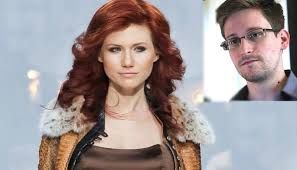 A former KGB agent has said that former Russian spy and celebrity Anna Chapman was ordered by the Russian intelligence service to propose marriage to former NSA contractor Edward Snowden to trap him in Russia, British tabloids have revealed.
MOSCOW, December 8 (Sputnik) — Former KGB agent Boris Karpichkov has announced that Russian 'femme fatale' former spy Anna Chapman was ordered by the Russian intelligence service to try and seduce US whistleblower Edward Snowden, the British tabloid the Daily Mirror reported.
Citing Chapman's playful and widely publicized Tweet from July 2013, which read"Snowden, will you marry me?!", Karpichkov told print tabloid Sunday People, which the Mirror cited, that the offer was serious. If Snowden had accepted, he would be 'locked in Russia', Karpichkov explained.
"If Snowden had accepted, he would have a right to Russian citizenship. That would lock him in Russia. As a citizen he'd need permission to leave," Karpichkov said. He further noted that this would allow Russian security services to extract more information from the former NSA contractor. He said that Snowden became "concerned about what the consequences [of such a proposal] would be" after a face to face meeting with Chapman.
Citing mysterious "Moscow sources", presumably old KGB and Federal Security Service (FSB) buddies, Karpichkov explained that the devious marriage plot was hatched by Vladimir Skorik, an actual FSB officer who really does serve as the head of information security at the FSB's Counterintelligence Service, the Mirror explained.
The Mirror's sensational story has since been republished by the tabloids the Daily Mail and the New York Post. Former British MP Rupert Allason, now a spy fiction writer who writes under the pen name Nigel West, told the Sunday People that Chapman, who had once lived in both the UK and the US, is "sophisticated enough to live with an American," and that "there aren't many of those in the FSB." The 63-year-old writer added that Chapman "would be prepared to use her obvious gifts," referring to the former spy's beauty, fantasized about by many British and American men since her outing.
Karpichkov has been a regular fixture among Britain's tabloid press of late, commenting on a variety of Russia-related intelligence topics since defecting to the UK in 2000. Earlier this year, he opined that Snowden had been 'tricked' into staying in Russia, and furthermore, that the FSB had singled him out as a possible defector as early as 2007. In an interview from two years ago, the well-respected publication The Guardian explained that Karpichkov has written a "colorful memoir" on his time as an agent in the KGB and the FSB, and that he has since been searching for a publisher.
Snowden, the National Security Agency intelligence contractor for the NSA who left the US in June 2013, has been living in Russia since shortly after, granted a three year residency permit earlier this year. It was revealed this summer that he had been at least temporarily reunited with his girlfriend in Moscow.
Chapman, who was convicted by the US as a sleeper agent for the FSB along with nine other Russians, was expelled from the US in 2010. She has since become a celebrity in Russia, where she has worked as a model, advertised for a Russian bank, and launched her own clothing line.
December 8 2014, 15:01