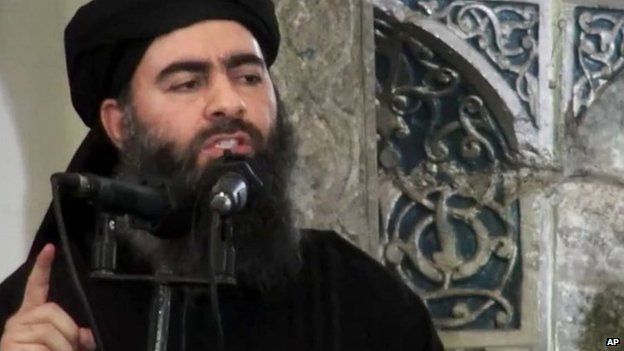 Last month, IS denied reports that Abu Bakr al-Baghdadi had been killed or injured in an air strikeLebanese security forces have detained a wife and son of Islamic State (IS) leader Abu Bakr al-Baghdadi near the border with Syria, the army says.
The pair, whose names were not given, were picked up by military intelligence after entering Lebanon 10 days ago, bbc reports.
The al-Safir newspaper reported that Baghdadi's wife was being questioned at the Lebanese defence ministry.
In June, Baghdadi was named the leader of the "caliphate" created by IS in the parts of Syria and Iraq it controls.
Last month, the group denied reports that he had been killed or injured in an air strike by US-led forces near the northern Iraqi city of Mosul.
It released an audio recording purportedly of Baghdadi in which he said the caliphate was expanding and called for "volcanoes of jihad" to erupt.
'Secret'
Describing them as "a valuable catch", al-Safir said that, in co-ordination with foreign intelligence services, the IS leader's wife and son were detained at a border crossing while trying to enter Lebanon from Syria with forged papers.
They were currently being held for interrogation at the defence ministry's headquarters in al-Yarza, in the hills overlooking Beirut, it added.
The newspaper said the military had "kept this huge security achievement a secret over the past few days".
The BBC's Jim Muir, who is in the capital, says that assuming it is true - and the army is being discreet on the matter - Baghdadi's wife and son could find themselves ensnared in a complex and delicate situation currently playing out in Lebanon.
IS and another Syria-based jihadist group, the al-Nusra Front, are holding around 20 Lebanese army soldiers hostage.
They are threatening to kill them unless militant prisoners are freed from Lebanese jails.
Lebanese security forces have arrested a number of jihadists suspected of carrying out attacks in the country with the aim of expanding the influence of Islamic State.
December 2 2014, 15:34