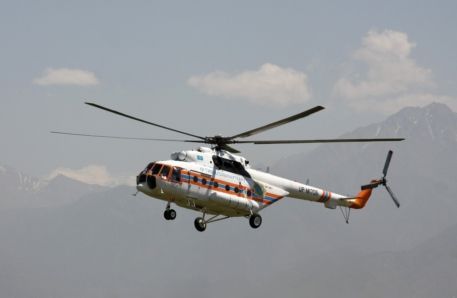 MI-8 helicopter with eight crew members is missing in Alakol district of Almaty oblast, reports the press service of the oblast emergency response department.
"Helicopter rented by "Kazakhstan-Chinese pipeline" took off on Saturday morning from one of the landing pads with eight people on board (pilots and company employees) to fly around the perimeter of Atasu-Alashankou pipeline. Closer to lunch time the communication with the helicopter crew was lost. The commander of the crew is an experienced pilot Raul Khabibullin,"- reads MES statement made on Sunday.
Four helicopters and groups of military people, rescuers, policemen and security agency employees are searching the missing helicopter.
Emergency Department reported that on Sunday they increased the searching efforts.
The names of missing crew members and company employees are as follows:
Pilots: Raul Khabibullin, Nurlan Esenaliev
Flight Mechanic: Vladimir Kim
Accompanying engineers: K. Maksaev, V. Radomsky, Т. Shokparov, А. Sarsembaev, К. Sabirov.
According to one version the helicopter made an emergency landing due to technical failure.
WKT citing IA -Novosti-Kazakhstan
November 26 2012, 12:59