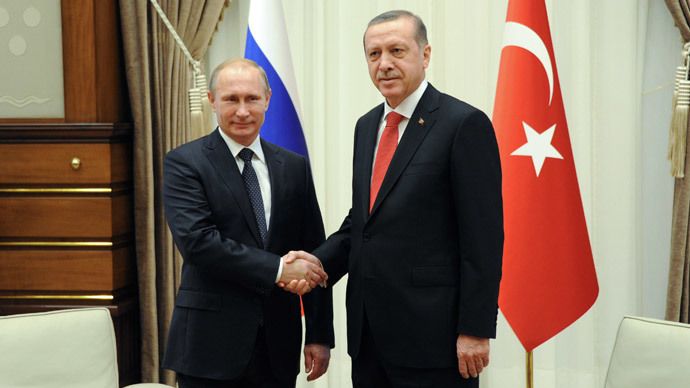 Russian President Vladimir Putin (L) and President of Turkey Recep Tayyip Erdogan during a meeting in the Presidential Palace in Ankara December 1, 2014. (RIA Novosti)Russia is forced to withdraw from the South Stream project due to the EU's unwillingness to support the pipeline, and gas flows will be redirected to other customers, Vladimir Putin said after talks with his Turkish counterpart, Recep Tayyip Erdogan.
"We believe that the stance of the European Commission was counterproductive. In fact, the European Commission not only provided no help in implementation of [the South Stream pipeline], but, as we see, obstacles were created to its implementation. Well, if Europe doesn't want it implemented, it won't be implemented," the Russian president said.
According to Putin, the Russian gas "will be retargeted to other regions of the world, which will be achieved, among other things, through the promotion and accelerated implementation of projects involving liquefied natural gas."
"We'll be promoting other markets and Europe won't receive those volumes, at least not from Russia. We believe that it doesn't meet the economic interests of Europe and it harms our cooperation. But such is the choice of our European friends," he said.
The South Stream project is at the stage when "the construction of the pipeline system in the Black Sea must begin," but Russia still hasn't received an approval for the project from Bulgaria, the Russian president said.
Investing hundreds of millions of dollars into the pipeline, which would have to stop when it reaches Bulgarian waters, is "just absurd, I hope everybody understands that," he said.
Putin believes that Bulgaria "isn't acting like an independent state" by delaying the South Stream project, which would be profitable for the country.
He advised the Bulgarian leadership "to demand loss of profit damages from the European Commission"as the country could have been receiving around 400 million euros annually through gas transit.
The South Stream was intended to transport Russian gas through the Black Sea to Bulgaria – and through Serbia, Hungary, and Slovenia, further to Austria.
Russian gas giant Gazprom began construction of the onshore facilities for the pipeline back in 2012.
But the €23.5 billion project ran into difficulties, as it violated European Union regulations which state that the same company cannot both own the pipeline and the gas which is transported through it.
The crisis in Ukraine has turned the legal debate over the pipeline into a political issue, affecting the EU's willingness to find a solution to the deadlock.
The EU Commission has been pressuring member states to withdraw from the project, with the new Bulgarian government saying it will not allow Gazprom to lay the pipeline without permission from Brussels.
Putin said that Russia is ready to build a new pipeline to meet Turkey's growing gas demand, which may include a special hub on the Turkish-Greek border for customers in southern Europe.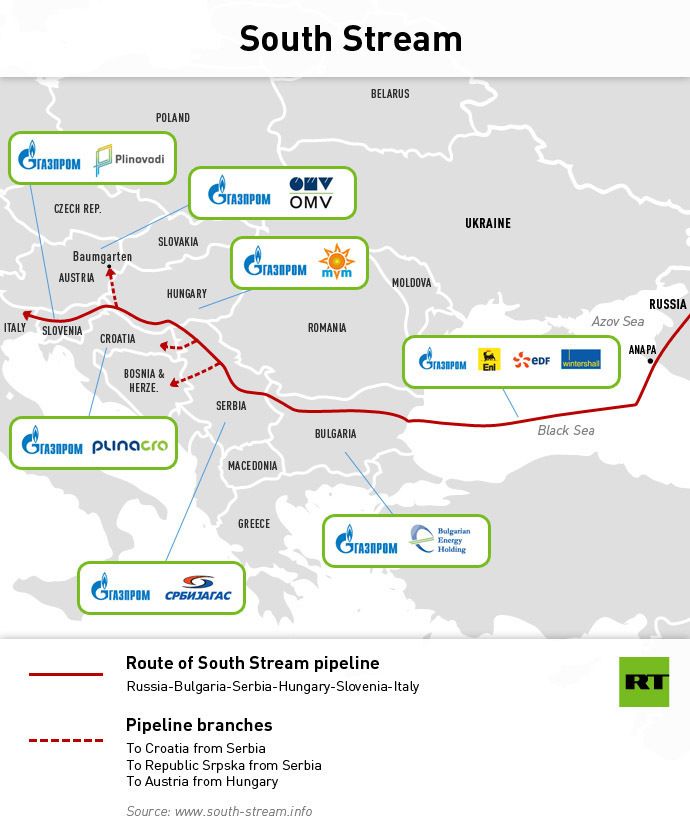 December 2 2014, 10:14