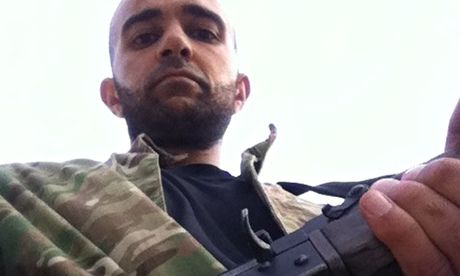 Mohommod Nawaz pictured posing with assault rifle. Photograph: Met policeTwo brothers have become the first Britons to be jailed for terrorist offences upon returning from Syria after they secretly left their London home to fight President Bashar Al-Assad's regime.
Mohommod Nawaz, 31, was jailed at the Old Bailey for four-and-a-half years and Hamza Nawaz, 24, for three years after admitting attending a terror training camp in Syria last year.
In a plan described by their barrister as "the height of amateurishness", the pair left their family home in Stratford, east London, late on 24 August telling relatives only that they were going for something to eat, theguardian.com reports.
In fact they drove to Lyon, in France, to catch a flight to Turkey where they would be smuggled across the Syrian border to join rebel fighters. Once arriving at the training camp, the brothers undertook a strict 17-hour daily routine starting at 4.30am with morning prayers, followed by Islamic lessons and a gruelling nine hours of physical or military training.
There was no evidence that the pair actually took up arms against the government, but they kept relatives and friends inundated with pictures of their adventure. In one, Mohommod is shown wearing camouflage clothing and posing with an AK47 and other pictures showed the camp against a backdrop of a barren Syrian desert.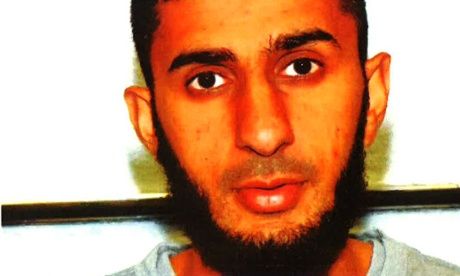 Hamza Nawaz (pictured) and his brother Mohommod Nawaz were stopped by police as they arrived at Dover from Calais. Photograph: Met policeThe brothers' family initially raised the alarm, telling police the pair were missing. However, when it emerged the pair were in Syria their family told police they were thought to be in Scotland doing charity work.
Hamza, the younger sibling, sent a text to a relative in London the day after his arrival: "We've left to come to Syria. We know everyone will be angry with what we have done but it's something we wanted to do. I will be in touch soon."
A video filmed on their way back to the UK showed the brothers trying to evade Turkish police by crossing a river on the border with Syria. They were approached by a man attempting to cross into Syria who asked them: "Who do you support?"The brothers replied that they support Junud Al-Sham (Soldiers of Damascus) and when asked if they were in Syria for jihad, they replied: "Jihad, yeah."
They were eventually caught on the way home at the port of Calais, where officers found a balaclava, dusty boots and heavy-duty clothing in their car along with five rounds of AK47 ammunition, which Mohommod had kept as a "trophy" of his trip.
Kate Wilkinson, prosecuting, told the Old Bailey that detectives had discovered internet searches on the brothers' computer such as "How to join the mujahideen" and "Islamic extremist groups". Hamza had also discussed leaving to wage jihad with his friends on Whatsapp. In one message, he approved of martyrdom in Syria and said Muslims should "go to Syria and fight as it's jihad".
"That the defendants shared an extremist ideology and had travelled to Syria for the purposes of jihad or fighting in the name of Allah is beyond question when looking at the evidence of their mindset," she said.
November 27 2014, 15:22