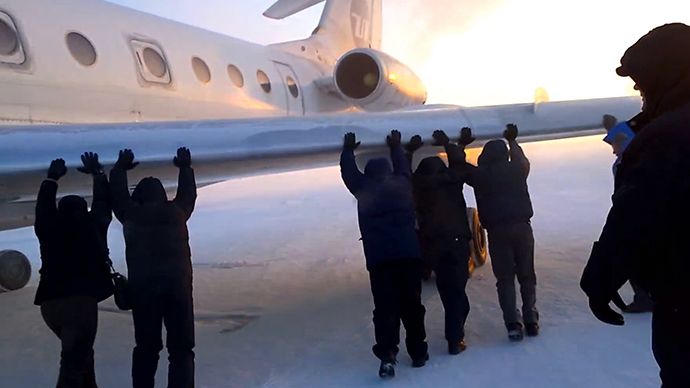 Passengers pushing the plane with its wheels frozen (Screenshot from youtube.com)Freezing temperatures didn't stop intrepid passengers from helping out a Russian plane that couldn't move, because its wheels were frozen to the ground. However, brute force won the day in a remote Siberian town beyond the Arctic Circle.
74 passengers, who were on board, offered the seven-member crew and technical staff to help move the frozen Tupolev Tu-134 plane to the takeoff runway on Tuesday, a spokeswoman for the UTair company told TASS.
"The passengers disembarked to lighten the weight, and then they volunteered to move it", she said.
The temperatures in Igarka, in the Krasnoyarsk region, hit a low of about 52C. Locals, living some 163 km north of the Arctic Circle, are quite used to cold weather, but machines turn out to be more delicate.
Having spent over 24 hours on the apron, the airplane's wheels simply froze to the ground. However, the brake system wasn't harmed and the incident is currently under investigation.
The passengers of the charter flight were rotation workers, heading to Krasnoyarsk. They didn't regard their activity as anything outstanding. There just was no other way for the plane to take off, they said.
"Planted a tree, built a house, pushed a plane," goes a new joke, referring to the three vital actions of a real Russian man, which also includes having a son, according to a local TV.
The plane successfully made it to Krasnoyarsk, albeit it with a little delay.
November 26 2014, 16:53