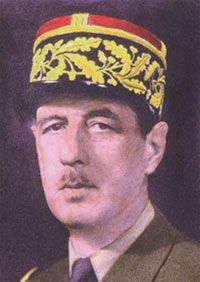 General Charles de GaulleThe unveiling ceremony will take place during the visit of the President of France to Kazakhstan this December.
French President Francois Hollande is visiting Kazakhstan this December. This was announced in a meeting of the mayor of Astana Adilbek Dzhaksybekov with Ambassador Extraordinary and Plenipotentiary of France to Kazakhstan Francis Etienne, kazpravda.kz reports.

During the visit, a monument will be unveiled to the founder and first president of the Fifth Republic, General Charles de Gaulle in the Akbulak 3 micro district of Astana, in the Charles de Gaulle street.

The French Ambassador expressed his gratitude to Kazakhstan people and Nursultan Nazarbayev for the memory of the French Republic's first President.

According to the Astana governorate's figures, more than 100 companies with French stakes are on record in Kazakhstan. One of the largest and most successful companies operating in the free economic zone "Astana - new city" is a joint venture, assembling helicopters -Eurocopter (Kazakhstan / France / Germany). In addition, contracts were clinched for the projects "New transport system of Astana. BRT and CITY BUS". In the healthcare, the concept has been developed for strategic partnership between the Oncology Center in Astana and the Gustave Roussy Institute of Oncology throughout 2014- 2016. As part of these agreements, experience is exchanged between Kazakh and French experts, advanced French standards are emulated in the detection and treatment of cancer.

This year, in early November, the Days of Astana in Paris were held as part of the cross-cultural exchange.
November 21 2014, 10:30