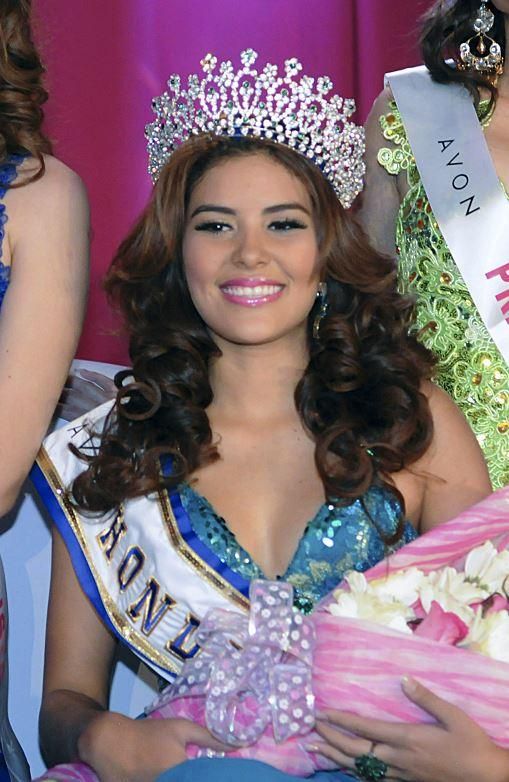 Beauty queen Maria Jose Alvarado, 19, was found dead beside the river.Police in Honduras have arrested two men over the killing of beauty queen Maria Jose Alvarado, 19, and her sister who vanished on a night out last week.
The bodies of Ms Alvarado and her sister Sofia Trinidad, 23, were found buried beside a river near the northern city of Santa Barbara.
Ms Trinidad's boyfriend confessed in custody to shooting and burying them, police say.
Police believe he shot her first in a fit of jealousy.
Ms Alvarado, who was crowned Miss Honduras in April, was preparing to leave for London for the Miss World contest in December at the time of their disappearance last Thursday.
The organisers of the contest joined in tributes to the dead women as the impoverished Central American state's record of violent crime again came under scrutiny.
'Gun recovered'
The bodies were found buried at Cablotales, near the River Aguagua.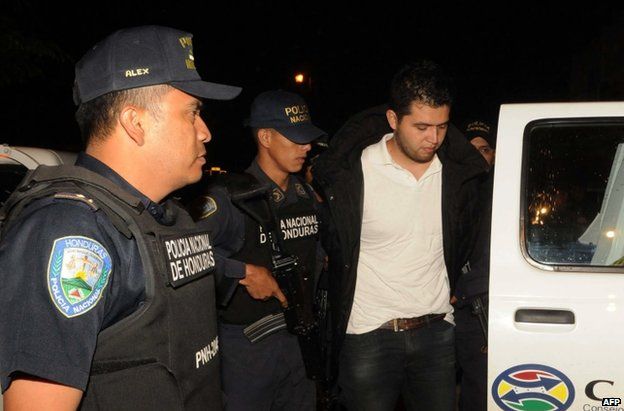 Police detained the suspect Aris Maldonado in Santa BarbaraPlutarco Ruiz, the boyfriend of Ms Trinidad, was detained along with another man, Aris Maldonado.
Mr Ruiz confessed to shooting the two women and then burying their bodies with the help of Mr Maldonado, Honduras National Police director Gen Ramon Sabillon told media.
Chief detective Leandro Osorio said Mr Ruiz had shot and killed the elder sister in a fit of jealousy after seeing her dancing with "another person or something similar", then shot Ms Alvarado and buried the bodies.
"This is the main hypothesis we have for this crime, based on the witnesses and investigations we've done," he said.
The two women were last seen alive in a car without a licence plate as they left a birthday party on 13 November.
The murder weapon and vehicle used to transport the women's bodies to where they were buried have been found, the detective added.
Gen Sabillon said Mr Ruiz had led the authorities to the burial spot. No comment from Mr Maldonado was immediately available.
November 20 2014, 04:52