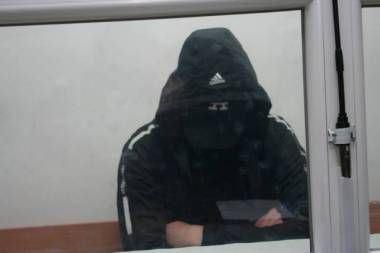 Vladislav ChelakhIn court in Taldykorgan the video of dialogue of Vladislav Chelakh with the cellmate in a pre-trial detention center was showed, BNews.kz correspondent reports.
The video shows Chelakh telling to the cellmate about the conflicts with his colleagues. According to the former frontier guard, at the moment of murder the last stage came and the "bowl of anger overflowed".
"Contract employees hided under beds at once, the room was small. I think, where are they? They are live of course, I start to shoot contract employees, I didn't go to them from the same place. Then I thought what should I do? I started to realize. One witness remains. I went to him as well. We stood, talked. "I will put on clothes and we will go," he says. I remove a safety lock then shoot, then I saw that he is moving. It is necessary to finish," Chelakh tells on the video record.
"I killed the first sentry, then the others. My hand didn't tremble at all, I did many shot. I was malicious, did not have enough sleep thr previous night.
- Moreover there was a day of the frontier guard?
- Yes, we celebrated it," Chelakh's dialogue with the cellmate sounds.
Remind that, the day before during the court session the display of the videos made by a surveillance camera in the cell of the pre-trial detention center and hidden cameras in Vladimir Chelakh's mother and grandfather hotel rooms during their arrival on appointment with the defendant.
bnews.kz
November 22 2012, 19:20