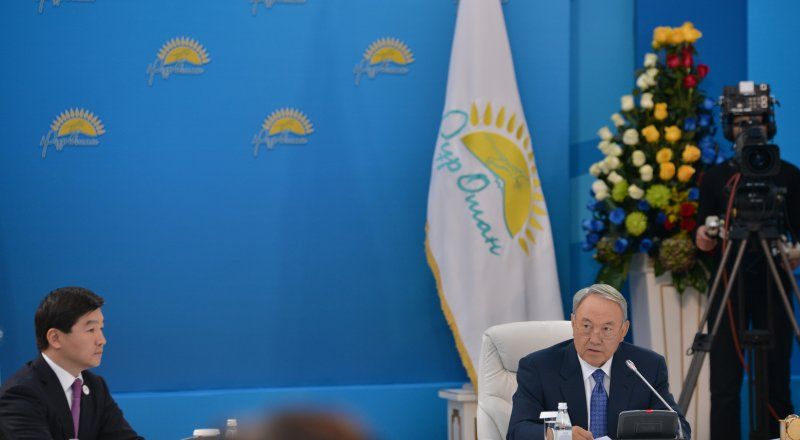 First Deputy chairman of Nur Otan party B. Baibek and Presidenty Nazarbayev at the Nur Otan party meetingDuring the extended meeting of the political council of the party "Nur Otan," the party leader, Nursultan Nazarbayev outlined the two issues of the meeting agenda, bnews.kz reports.
"Today on the agenda - the results of the party platform "Kazakhstan. Objectives 2017. The National Action Plan. Firstly, we need to report to the people about the work done. Secondly, the "Nur Otan" party - the party of specific objectives; interests of the people, improved welfare of the people - that is the main concern of our party. Thirdly, consistency of the work in the implementation of the pre-election plans - is a basic element of the long-term political leadership of the party "Nur Otan." Here are the two issues of the agenda, we will discuss ,"- said Nursultan Nazarbayev.
Annual $3 billion to be allocated out of National Oil Fund to bolster nation's wellbeing
As part of his Address to the Nation, Kazakhstan's President Nursultan Nazarbayev has instructed his Government to allocate another $3 billion annually for the following 3 years out of the National Oil Fund accumulating windfall oil revenues, a tengrinews.kz journalist reports from an extended sitting of the Nur Otan Party Political Council.
"The accumulated funds should be channeled at enhancing the nation's wellbeing and they should be handled prudently. I commission to allocate an annual $3 billion in 2015, 2016 and 2017", he said.
Head of State emphasized that the main aim of the National Oil Fund is to ensure stable social development of the nation and to protect the economy from external shocks. "Amidst the global economic conditions, without some extra injections into the national economy it will be hard to reach the set goals (…) the time has come to tap into the Fund's assets", he said.
He instructed the country's Government to come up within a week with specific suggestions on allocating means out of the National Oil Fund and reflect the amounts in the 2015 national budget draft. "The Government must think of measures to ensure effective, rational use of the money. An ad-hoc committee launched by me will be reporting to me on the use of the funds. All the city and oblast governors and Nur Otan Party branches are responsible to make sure the money is spent wisely and for intended purposes. The Party should be actively involved (…)", he said.
The National Fund of Kazakhstan was created in 2000 as a stabilization fund that accumulates windfall revenues from oil sales and ensures the economy of Kazakhstan will be stable against the price swings of oil. The assets of the National Fund assets are monitored by the National Bank of the Republic of Kazakhstan. As of July 2014 the assets stood at $76.757 billion.
November 11 2014, 15:39