akipress.org. "German geologists choose 15 promising deposits in Kazakhstan for business" - The Geological Survey of Germany has chosen 15 promising fields in Kazakhstan for doing business, said Deputy Minister for Investment and Development of Kazakhstan Albert Rau.
inform.kz. "Italy to promote its goods in regions of Kazakhstan" - Italy is interested in promoting its products across Kazakhstan. Italian Deputy Minister for Economic Development Carlo Candela said at the Kazakhstani-Italian business forum in Astana on Monday his country is keen to promote its products in all corners of Kazakhstan.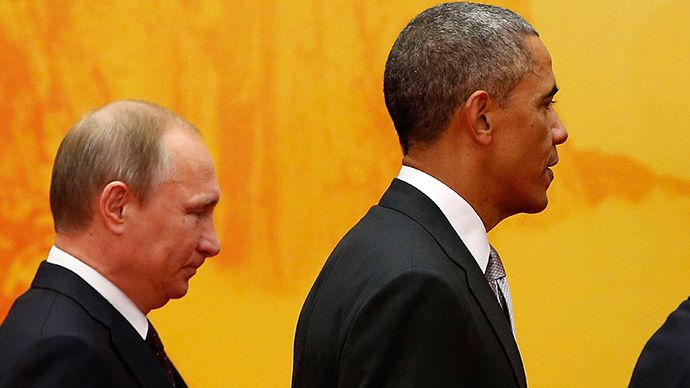 rt.com. "Putin, Obama in 'brief meetings' at APEC summit" - Presidents Vladimir Putin and Barack Obama are continuing their personal interaction at the APEC summit in Beijing, the Kremlin has confirmed. With relations between Moscow and Washington strained, the two have chosen to communicate out of public view.
sputniknews.com. "CNN Receives Mockery After Confusing Obama With Bin Laden" - CNN ran a headline that confused President Obama with Osama bin Laden. While covering a story about an Ex-Navy SEAL, who had gone public earlier this week claiming that he was the one who shot Osama bin Laden, CNN ran a headline that confused President Obama with Osama bin Laden. "SEAL WHO CLAIMS HE KILLED OBAMA UNDER ATTACK," said the CNN headline that ran at least 45-seconds. The mistake was quickly noticed by the viewers and earned widespread mockery.
bbc.com. "Indian botched sterilisations kill eight women in Chhattisgarh" - Eight women have died after undergoing sterilisation surgery at a health camp organised by the government in the central Indian state of Chhattisgarh. Thirty other women were admitted to hospital and doctors have said several are in a serious condition.
"Can Islamic State survive without Baghdadi?" - There has been no official comment from Islamic State about the rumours of al-Baghdadi's death. In the wake of US-led air strikes on an Islamic State (IS) convoy near the Iraqi city of Mosul on Friday, media have been awash with rumours that IS leader Abu Bakr al-Baghdadi was killed or injured.
November 11 2014, 10:40