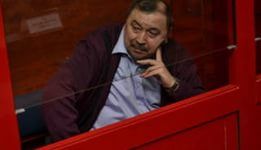 Yerzhan UtembayevThe man convicted of ordering the murder of an opposition leader eight years ago is to be released on parole, a court in Astana has ruled. The decision raises, yet again, questions about the judiciary's independence.

Yerzhan Utembayev will be released after serving eight years of his sentence over the brutal killing of Altynbek Sarsenbayev, an opposition leader and former government minister, in 2006, Tengri News reports.

Sarsenbayev's brother, Rysbek Sarsenbay, had asked the court not to release Utembayev, claiming that he is concealing the names of those really responsible for the murder. "We want those who are really guilty to be exposed and convicted," Sarsenbay said. But his arguments fell on deaf ears.

At his trial in 2006, Utembayev – who originally confessed to contracting the murder, but later recanted – was jailed for 20 years after being found guilty of hiring a hitman to kill Sarsenbayev for $60,000 in revenge for a newspaper article making unflattering revelations about him.

The trial found that Utembayev (who was at the time was head of the Senate secretariat) contracted Rustam Ibragimov, a former Interior Ministry officer, who set up a death squad comprising rogue members of elite Kazakhstani anti-terrorism units, which kidnapped Sarsenbayev and two aides and delivered them to Ibragimov, who killed the three men.

These findings were shot down at a retrial earlier this year, at which Utembayev was found guilty on a lesser charge of accessory to murder. He dismissed the conviction as "hogwash." Sarsenbayev's friends and family also refused to accept it.

The retrial was "a tragi-farce playing out on the Kazakhstani stage of the theater of the absurd," Tolegen Zhukeyev, a former political ally of Sarsenbayev's, said at the time. The court "was really not interested in establishing the true picture of the tragedy," Marzhan Aspandiyarova, Sarsenbayev's sister-in-law, added.

The retrial was the result of new claims implicating high-level officials in the murder plot made by Ibragimov in 2013 from behind bars (he is serving a life sentence).

Sarsenbayev's murder, Ibragimov claimed, was part of an elaborate plan to overthrow Nazarbayev. At the retrial he named the contractors as Rakhat Aliyev, Nazarbayev's former son-in-law (who is under arrest in Austria and faces charges, which he denies, of murdering two bankers in Kazakhstan in 2007), and Alnur Musayev, a former head of the intelligence service (the KNB) who is an Aliyev associate. Both deny the allegations.

Ibragimov also implicated Nartay Dutbayev, the former KNB chief who resigned over the revelation that security commandoes were involved in the murder, and former Senate speaker Nurtay Abikayev, currently head of Kazakhstan's intelligence service. Neither has commented on the claims.

Despite FBI involvement in the investigation that led to the retrial, Sarsenbayev's family remains convinced that the truth has not been established and that high-level officials were involved in the killing.
As Sarsenbayev's sister-in-law put it after the retrial: "The questions that remained open during the trial largely confirm our suspicions and suppositions that the upper echelons of power are implicated in this crime."
November 10 2014, 03:05