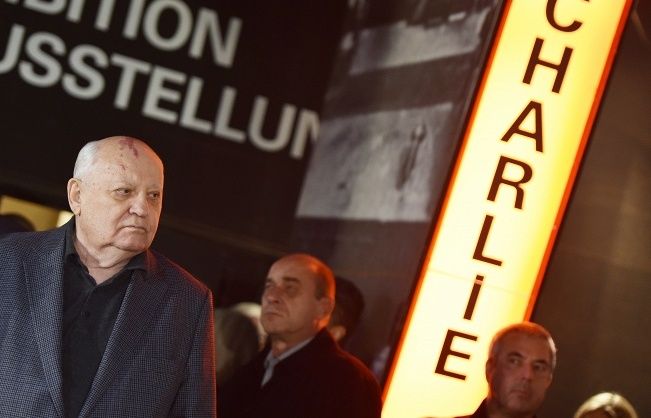 M. Gorbachev at the exhibitionSoviet President Mikhail Gorbachev on Friday opened an exhibition in downtown Berlin devoted to the collapse of the Berlin Wall.
Berlin residents and tourists had an opportunity to meet and greet Gorbachev, the winner of the Nobel Peace Prize, personally when he came to Checkpoint Charlie, which appeared on Friedrichstrasse after the division of Berlin, itar-tass reports.
"I haven't been here for quite some time and I'm really glad I came here again in these important days," Gorbachev said at the opening ceremony.
He said he would take part in the symposium titled 'The World 25 Years after the Fall of the Berlin Wall - New Crisis, New Doubts, New Walls'.
"Also, I'll have meeting with politicians and I hope to meet with Chancellor Angela Merkel," Gorbachev said.
He pointed out the changes that had taken place in Germany and its capital.
"I recall my first visit to the German Democratic Republic in 1966," Gorbachev said. "Many buildings were still lying in ruins then and this was a dark gloomy city but the times have changed radically now and there's a drastically new situation."
Simultaneously, he underlined the emergence of new tensions in Europe and in the world at large, saying: "We must think again about how to act on time, how to avert bad things and how to preserve everything that has been done in previous years."
The exhibition featuring the fall of the Berlin Wall brings the audiences back to the complicated epoch of struggle between the two political systems. The divided city of Berlin found itself in the epicenter of the Cold War, with people dying in attempts to get over the wall and Soviet and Americans tanks standing in combat-ready position with guns targeted at one another.
Organizers of the exhibition believe that checkpoint Charlie is a perfect side to holding historical displays now.
The presentation has been organized by the Cinema for Peace Fund.
Germany's former foreign minister, Hans-Dietrich Genscher, and Miklos Nemeth, the last prime minister of the Hungarian People's Republic, will attend the symposium together with Mikhail Gorbachev on Saturday. Its participants, including politicians, experts, scientific workers and cultural figures, will discuss the current world situation and ways of overcoming tensions in relations between the West and Russia.
German Chancellor Angela Merkel is expected to receive Gorbachev on November 10.
November 8 2014, 05:27