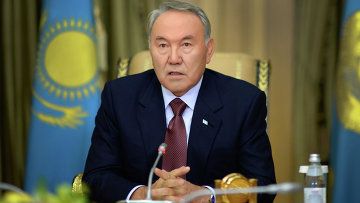 N.NazarbayevKazakhstan is ready to help Kyrgyzstan with its accession to the Eurasian Economic Union, Kazakhstani President Nursultan Nazarbayev said on Friday.
Nazarbayev said he discussed the issue with Kyrgyz President Almazbek Atambayev, adding that Kazakhstan supports Kyrgyzstan's joining the Customs Union and the common economic space. "Kazakhstan is ready to provide necessary technical, consultative and other aid," Nazarbayev said, itar-tass.com reports.
At present, the parties are working on launching a Kazakhstani-Kyrgyz direct investment fund, which will be used to develop the border infrastructure of Kyrgyzstan due to the accession to the Customs Union.
Atambayev thanked Kazakhstan and called it a fraternal country, referring to $100 million of financial support.
The Treaty on the establishment of the Eurasian Economic Union was signed by the presidents of Russia, Belarus and Kazakhstan on May 29, 2014 in Astana.
The agreement is the basic document defining the accords between Russia, Belarus and Kazakhstan for creating the Eurasian Economic Union for the free movement of goods, services, capital and workforce and conducting coordinated policies in key sectors of the economy, such as energy, industry, agriculture and transport.
The EEU members are currently Russia, Belarus, Kazakhstan and Armenia. Kyrgyzstan is expected to join the union soon.
November 7 2014, 16:25