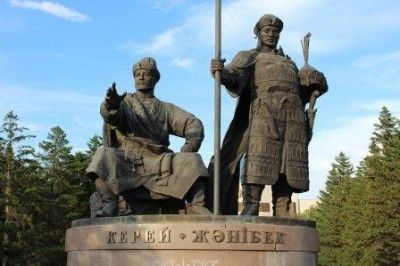 Monument to khans Kerei and Zhanibek in AstanaDevelopment of the 20-episode period drama series about the history of Kazakh khanate is set to begin in early 2015, according to Kazakhstan's Minister of Culture and Sports Arystanbek Mukhamediuly.
Minister Mukhamediuly spoke about the series and other events dated to the 550th anniversary of the Kazakh statehood at a press conference at the KazMedia Center on Tuesday, azh.kz refers to inform.kz.

"The 20-episode series dedicated to the Kazakh khanate will be developed. The shooting will begin in January 2015," he said.

In his words, other grandiose events will commemorate the 550th anniversary of the Kazakh statehood, including international conferences and scientific expeditions.
In 2015 Kazakhstan will mark the 550th anniversary of its statehood. "In 1465 Kerei and Zhanibek created the first khanate and this is when the history of Kazakhstan's statehood begins. Possibly, it was not the state in the modern understanding of this term, it could have different borders and image in the world. But the same could be said about all other states of the same era. The most important thing that the foundation has been laid that time and we continue great deeds of our ancestors,"- said the Kazakhstan President Nazarbaev.
November 4 2014, 15:22