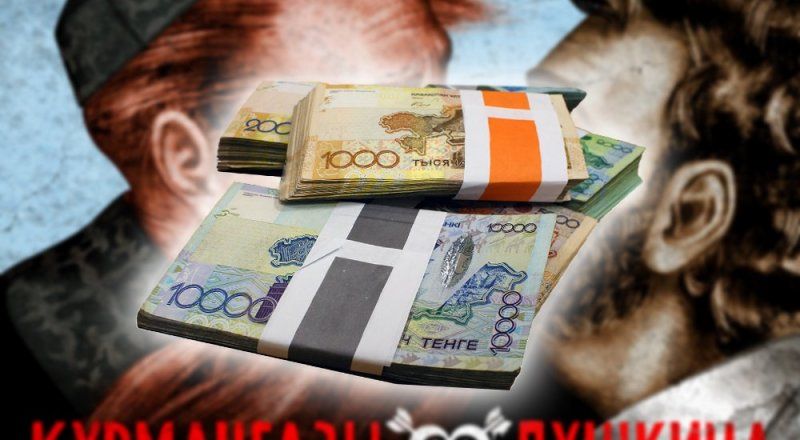 Kazakhstan court awards massive 34 million tenge damages over same-sex kiss posterThe 19th-century Kazakh and Russian cultural icons depicted enjoying a kiss on a poster may be long dead. But that has not stopped a court in Kazakhstan awarding massive damages to a group of living people who claim the image of two men kissing has hurt their feelings, eurasianet.org reports.

On October 28, a court in Almaty ordered the advertising agency that designed the poster – which shows Kazakh composer Kurmangazy Sagyrbayuly and Russian poet Alexander Pushkin kissing – to pay 34 million tenge ($188,000) to a group of 34 music students and teachers whose only tenuous connection to the image is that they study and work at the Kurmangazy Kazakh National Conservatory, Tengri News reports.

The ruling awarding each plantiff a million tenge is "unfair," said Dariya Khamitzhanova, director of the Havas Worldwide Kazakhstan agency, which designed the poster. "This 34 million will ruin our company." She pledged to appeal, but meanwhile the court has frozen the agency's assets.

The controversial poster – advertising an Almaty gay club at the intersection of Kurmangazy and Pushkin streets and inspired by a famous image of the leaders of East Germany and the Soviet Union kissing in 1979 – was designed for an advertising competition in August and was never intended for showing in the public domain.

However, after the picture started doing the rounds on social media a public outcry ensued and three separate lawsuits were launched against the agency, which has repeatedly apologized for any offense caused.

It has already lost one case brought by Almaty city hall, which claimed the poster violated "moral values" by showing "nontraditional sexual relations, which are unacceptable to society." In that case, the agency was fined $1,000 for violating Kazakhstan's advertising law and Khamitzhanova was personally fined $700. A third case filed by an individual claiming to be a Kurmangazy descendent has yet to reach the courts.

Human rights groups have condemned the cases as an attack on freedom of speech. "Kazakhstan's judiciary should ensure that freedom of expression trumps subjective discomfort about a particular image, and that homophobia masked as cultural concern is not allowed to triumph," Mihra Rittmann of Human Rights Watch said in a statement earlier this month.

Homophobic outbursts are nothing new in Kazakhstan, where the Lesbian, Gay, Bisexual, and Transgender community faces pervasive discrimination. Last month youth group leader Dauren Babamuratov called for a ban on members of the LGBT community serving in the civil service and the army, and for a law banning propaganda of homosexuality similar to that adopted in Russia last year and the one now moving through Kyrgyzstan's legislature.

He also suggested that the wearing of "colorful pants and creative hairstyles" was a marker of homosexuality.
October 28 2014, 15:47