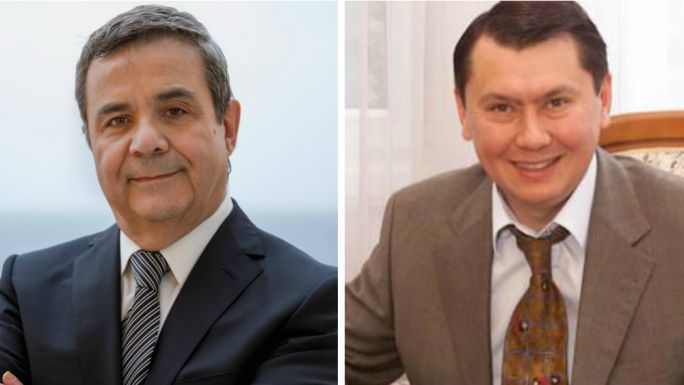 Ray Bugeja and Rakhat AliyevTwo weeks ago, 'L'Etoile' was searched by police from the Economic Crimes Unit over money laundering claims implicating the Aliyevs.
The Madliena mansion where exiled Kazakh multi-millionaire Rakhat Aliyev was living while staying in Malta, had been the property of the Nationalist Party's head of finance commission, Ray Bugeja.

MaltaToday has learned that entrepreneur Ray Bugeja, 63, sold his villa 'L'Etoile' in Triq Fomm il-Gheliem, on High Ridge, for the sum of €3,492,000 to Ganado Trustees & Fiduciaries in November, 2011.

Two weeks ago, 'L'Etoile' was searched by police from the Economic Crimes Unit over money laundering claims implicating the Aliyevs, after the Maltese courts imposed a wide-ranging asset freeze on Aliyev's interests over here.

Aliyev is currently being held under arrest in Austria, where he voluntarily turned himself in after leaving Malta.

Bugeja made an outside bid for the leadership of the Nationalist Party in 2013, and then was fielded as a European Parliament candidate in 2014: he turned out to be the biggest spender during the electoral campaign, with €18,442 claimed in expenses which included big parties for constituents, a video production, cakes, lunches, and the usual advertising and printing expenses – just €200 short of the €18,600 limit for candidate spending.

At the time of the house sale, Rakhat Aliyev and his wife Elnara Shorazova were already living in Malta, having fled from Austria after a Vienna prosecutor started investigations into an alleged double-murder commissioned by the former deputy head of the Kazakh secret service.

MaltaToday can also confirm that up until February 2014, Ganado Trustees & Fiduciaries had a legal relationship with Aliyev, having acted as a nominee shareholder for an Aliyev company, Olympia Yachting Limited.

Olympia Yachting had been one of several companies owned by the Aliyevs that were the subject of an asset freeze requested by the Attorney General earlier this year.

A credit search carried out yesterday however shows that Ganado Trustees no longer appear as shareholders in Olympia Yachting.

The police conducted an inventory of Aliyev's belongings found in the villa in Madliena where he was living. He is believed to own a host of properties around Malta, where some of his companies are registered, including apartments at Pendergardens in St Julian's and Fort Cambridge in Sliema.

His lawyer, Joe Giglio, was recently appointed to head a Nationalist Party forum on home affairs policy.

His law firm houses a company belonging to Elnara Shorazova, which was allegedly part of a money laundering network in a report presented to the Attorney General by Berlin lawyers Danckert Spiller Richter Bärlein, acting on behalf of the Kazakh ministry of justice.

According to the investigation, Aliyev's A & P Power Ltd was used by Shorazova to transfer €2.4 million from Austria to Malta. The company was renamed Zurich Asset Management, and is now seated at the address of Iuris Advocates.

Iuris Fiduciary owns a 1% shareholding in Zurich Asset Management, while Iuris Management is listed as the director of the company: in both Iuris firms, Joe Giglio's wife Jeanine has a 50% shareholding.
October 27 2014, 12:28