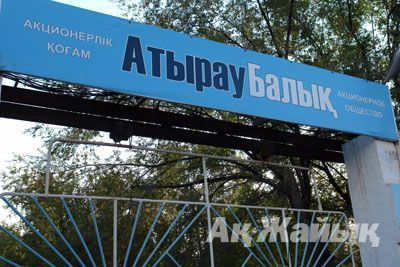 On November 14, Specialized Economic Court of Atyrau Oblast started reviewing the claim of the city tax department to recognize bankruptcy of AtyrauBalyk JSC, the only company allowed to legally produce caviar in Kazakhstan.
DEEP IN DEBT
As of October 12, 2012, the debt of ex-flagship of domestic fish industry to tax agency made T71.3mln; due mandatory pension allocations – T28.3mln; due mandatory social payments – T13.2mln; not to mention salary debt to staff.
At court session, tax officers stated AtyrauBalyk began facing difficulties in tax payment in February 2010. In May, 2012, its fate was sealed when the organization received audit commission led by then governor Ryskaliyev.
With the purpose to quit indebtedness to state, all payment operations in the company have been closed since June 2010, as well as cash operations from June 2012. Out of T2.2bn of debt, budget received just T1.5mln in this period due to lack of money on the bank account, said tax agency reps.
Reportedly, to the enquiry of tax bodies, the oblast justice department replied that AtyrauBalyk has plenty of real estate on the books.
In particular, a fish canning factory and 20 apartments in a single block #131a at Azattyk Avenue.
Besides, according to municipal land affairs department, as of the start of the year, AtyrauBalyk owns another 15 land plots in the villages of Balykshi and Yerkin-Kala and the city of Atyrau. Also, road police reports the company has 28 vehicles in possession.
However, the court determined that the greater part of the property has been arrested by court marshals in order to pay salary debts.
It's worth noting that at court sessions, Alexander PAK, director of company effective 2011, has been regularly demonstrating unawareness of state of affairs at the factory. Specifically, judge was surprised to hear that Mr Pak didn't know how many vessels and vehicles the company had on the books.
HOPE FOR FISHING SEASON
It's interesting that the administrative office of AtyrauBalyk, together with facilities and land, has long ago been sold for T200mln to ZhaikBalyk, its successor.
Mr Pak says, only administrative staff and watchmen are involved in the work of factory at the moment.
Reps of the factory failed to clearly explain the reason for keeping its former areas on a leasehold basis and maintaining an army of watchmen, given the factory has huge outstanding bills.
- We hoped to make profit in autumn fishing season and quit our debts, said Mr Pak unconfidently.
Quite possibly, the organization experienced the same schemes as in Atyrau Akparat state-owned organization, where facilities had been leased to public media entities by still unnamed entrepreneurs. In AtyrauBalyk's case, money for rent used to be paid to ZhaikBalyk, which is not an entity of state monopoly.
The responding side provided no documents to the court to confirm legal handover of lands, production facilities and vessels to its successor.
When tax officers showed property registration documents, the respondent claimed it is a question to the new owner, who hasn't timely arranged property ownership documents to his name.
Where are ex-stakeholders of the fish factory?
To recall, a couple of years ago, they requested government to give them from T5bn up to T6.5bn for redemption of enterprise.
But, in 2009, during the visit of Bolat PALYMBETOV, the head of Kaspi Social Entrepreneurship Corporation, main stakeholders that owned 89% of the company unexpectedly announced they would donate all their shares to the government due to extremely unfavorable financial condition and small volumes of sturgeon production.
According to the RoK Financial Supervision Agency, AtyrauBalyk JSC's main partners are Brooklyn Group Consultants Inc. and KZ-Balyk LLP. Both (at least in 2008) were affiliated with SAT&Company, of which majority stake was owned by Kenes RAKISHEV, son-in-law of Imangali TASMAGAMBETOV.
Then CEO was Aibek BARYSSOV. According to FSA, as of May 2010, the chair of CEO was occupied by Nurbol Bolatovich NAZARBAYEV.
Current management of the factory claims there was not a single stakeholder at the moment they assumed their positions. Vassiliy KUZMIN, who was the director prior to Mr Pak, is now a deputy director.
There are a number of rumors concerning stealing of factory property in the last years before nationalization and luxury style life of stakeholders and management.
To the question "Why didn't you seek for the stakeholders, given they had brought the factory to ruin?" the managers were brief: "For what?"
No comments.
MISSING CAVIAR
Another flash fact appeared during the court session: several companies owe AtyrauBalyk T80mln.
T70mln out of the sum falls at a certain company, to which AtyrauBalyk had shipped 2 tons of caviar with no advance payment in 2008.
The factory managers claimed to have requested tax authorities to exact the money from the debtor. However, tax officers denied that such a request was ever submitted.
Informal sources stated the company that received huge amount of caviar is owned by one of AtyrauBalyk's stakeholders bearing a famous surname.
The next session is scheduled for November 23.
By Laura SULEIMENOVA
November 20 2012, 14:53