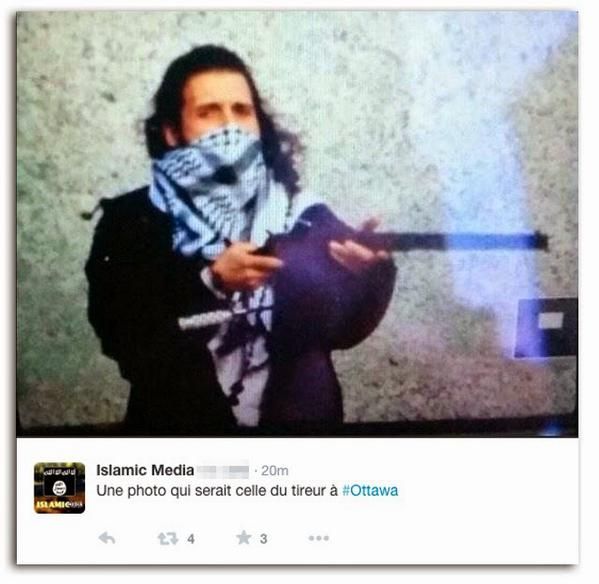 While the name of the Ottawa gunman is yet to be announced, a number of officials told numerous media that the shooter is believed to be Michael Zehaf-Bibeau, a recent Muslim convert, allegedly designated as a high-risk traveler.
Michael Zehaf-Bibeau was born in Quebec as Michael Joseph Hall north of Montreal, two US officials told Reuters, claiming that American law enforcement agencies have been advised that the attacker recently converted to Islam.
The news of the shooting broke at 9:52 am local time when the gunman killed a soldier at the National War Memorial before reportedly proceeding to the Parliament Hill's Center Block where he was shot dead by a 58-year-old sergeant Kevin Vickers.
"I looked out the window and saw a shooter, a man dressed all in black with a kerchief over his nose and mouth and something over his head as well, holding a rifle and shooting an honor guard in front of the cenotaph point-blank, twice," Zobl told the Canadian Press news agency. "The honor guard dropped to the ground, and the shooter kind of raised his arms in triumph holding the rifle."
The attack on the Parliament in Ottawa comes two days after another recent convert to Islam, 25-year-old Martin Couture-Rouleau ran over a soldier and injured another with his car before being shot to death by police.
Couture-Rouleau was allegedly a supporter of Islamic State. On Tuesday, RCMP Commissioner Bob Paulson said Rouleau also had his passport revoked as he was one of the 90 people being looked at in an ongoing national security probe as he was attempting to travel to Syria.
Addressing the nation from an undisclosed location on Wednesday evening, Canadian Prime Minister Stephen Harper said the country will never be intimidated by something like the two outrageous attacks this week.
Last Friday, the terrorism threat level in Canada was quietly elevated from low to medium for the first time since August 13, 2010, according to an internal document obtained by Global News.
"Intelligence indicates that an individual or group within Canada or abroad has the intent and capability to commit an act of terrorism. [Integrated Terrorism Assessment Centre] ITAC assesses that a violent act of terrorism could occur," the document says.
The document warns that "self-directed extremists" inspired by the Islamic State are most likely to attack Canada through "small cells or as lone actors to carry out simple, small-scale attacks." Authorities believe that some 130 Canadians are currently abroad supporting terrorism, including more than 30 in Iraq and Syria. At least 80 Canadians are believed to be back on home soil after visiting conflict zones, it says.
October 23 2014, 15:58