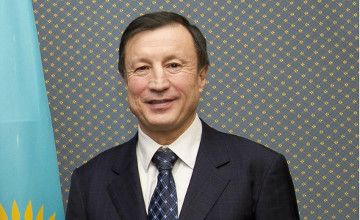 Adilbek DzhaksybekovAdilbek Dzhaksybekov has been named mayor of Astana city, inform.kz has learnt from the president's Twitter account.
Head of State Nursultan Nazarbayev introduced the newly appointed mayor to staff of the Astana city administration.

Adilbek Dzhaksybekov was born in Kostanay region in 1954. Mr. Dzhaksybekov previously held the post of mayor of Astana city from 1997 till 2003. He also served as the Minister of Industry and Trade (2003-2004), the head of the Presidential Administration (2004-2008), the ambassador of Kazakhstan to the Russian Federation (2008-2009), and the Minister of Defense (2009-2014). His also held the office of the Kazakh Secretary of State since April 2014.
October 22 2014, 12:01