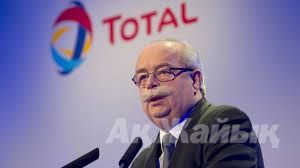 Total CEO Christophe de Margerie died in plane crash in Moscow Vnukovo airport.The CEO of France's oil and gas giant Total, Christophe de Margerie, was among four people killed in a business jet crash at Vnukovo Airport in Moscow after the aircraft hit a snowplow on take-off, rt.com reports.
Total's chairman and CEO was the only passenger in the Falcon 50 business jet besides three crewmembers who were also French citizens.
"Total confirms with deep regret and great sadness that Chairman and CEO Christophe de Margerie died just after 10pm (Paris time) on October 20 in a private plane crash at Vnukovo Airport in Moscow, following a collision with a snow removal machine," the company said in a statement.
During the taxiing before take-off, at around 0:10 am Moscow time on Tuesday, the light aircraft hit a snow-clearing machine, the head of Vnukovo's press service, Elena Krylova, told the media.
"A Falcon airplane that was en route from Moscow to Paris collided with a snowplow while the jet was preparing to take off. The plane caught fire after the collision and all the people onboard – including a passenger and three crew members - died," Krylova said.
The aircraft did not leave the ground after hitting the vehicle, she added, refuting earlier reports that the plane did eventually take off but then the pilot made a decision to turn back and land. The investigators have already found the aircraft's black boxes while the airport staff were writing explanatory reports, she added.
News portal LifeNews.ru reported earlier that the plane was in the air for a short period of time, sending distress signals and reporting an engine fire and fuselage damage, before it crashed on the runway, becoming engulfed in flames and killing everyone on board.
Debris from the aircraft was scattered up to 200 meters from the crash site, according to the rescue services. The engine was found some 50 meters from the crash site, while one of the landing gears was ripped off and discovered nearly 200 meters from the main mass of debris.
Vnukovo Airport temporarily suspended all flights following the incident, but by 2 am all operations were restored. While initials reports suggested only four people died in the tragedy, some sources claimed that five bodies were found at the crash site, one allegedly being the driver of the snowplow. The airport however later confirmed that the driver was not injured in the collision.
"A criminal investigation has been opened into the violation of safety regulations after a light aircraft crash in the capital's Vnukovo airport," transport official Tatyana Morozova told RIA. An investigative group is working at the crash site, Morozova added.
October 21 2014, 10:19