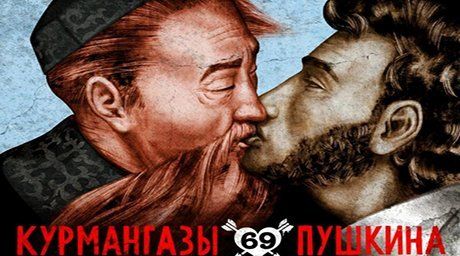 The poster advertising Almaty gay club Studio 69 Photograph: Havas Worldwide Kazakhstan on FacebookAlmaty city court heard the appeal re. the case of poster creation with the image of a kiss of Kurmangazy and Pushkin, azh.kz reports referring to tengrinews and rferl.org.
The judge left the previous court decision of September 24 without change about imposing fine on the creators of the poster - Havas Worldwide Kazakhstan - in the amount of 314 thousand tenge.
"The court of the first instance gave the correct assessment based on available proofs", - announced the judge.
The director of agency Dariya Khamitzhanova said that they now are going to file the complaint in UN Human Rights Committee.
An advert featuring an image of Russian poet Alexander Pushkin and Kazakh composer Kurmangazy kissing has sparked widespread complaint in Kazakhstan.
The poster – which features the two of the region's most prominent 19th century cultural figures – is designed to promote a gay club in Almaty, one of the most liberal cities in Central Asia. The club, Studio 69, sits at the corner of streets named after Pushkin and Kurmangazy.
Poster advertising Studio 69 gay club started to circulate in social networks on August 24.
The next day 20 activists filed a lawsuit against the advertising agency, saying it "insulted both Kazakhs and Russians."
Also teachers and students of the Almaty state conservatory named after Kurmangazy filed cases against the creators of the poster, where 34 persons demand 34 million tenge from the advertizing agency.
Translated by Zeena Urynbassarova
October 16 2014, 16:56