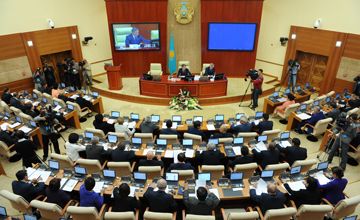 The plenary session of the Majilis has approved a draft law "On ratification of the Agreement between the Republic of Kazakhstan and the Italian Republic on the transfer of sentenced persons."
First Deputy Prosecutor General of Kazakhstan Iogan Merkel said that in line with the Agreement a person sentenced in the territory of a party may be transferred to the territory of another party in order to serve the sentence imposed on him. The transfer is carried out upon written consent of the sentenced person or his legal representative, azh.kz refers to kazinform.

According to his words, a sentenced person may be transferred under the Agreement on the following conditions: if that person is a national of the administering state; if the judgment is final; if, at the time of receipt of the request for transfer, the sentenced person still has at least 12 months of the sentence to serve; if the acts or omissions on account of which the sentence has been imposed constitute a criminal offence according to the law of the administering state; if the sentencing and administering states agree to the transfer.

A party may deny a request for assistance if it decides that the transfer would prejudice its sovereignty, security, public order, or contradict the fundamental principles of the legislation or other national interests.
October 15 2014, 11:35