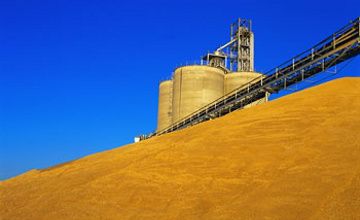 Iran will allot a land plot in Golestan province by late 2014 for the construction of a Kazakh grain terminal, said the Kazakh Agriculture Ministry, azh.kz reports referring to trend.az.
This multifunctional terminal with a storage capacity of 20,000 metric tons of grain will be built on the Iran-Turkmenistan border near the Inceburun station.
The Kazakh company Astyk Terminal is ready to construct the terminal. At present, a final stage of the company's registration in Iran is underway. The appropriate measures are being taken to obtain a land plot for the construction of a grain terminal, the ministry said.
"According to the Kazakh Embassy in Iran, the company's registration procedures will complete and a land plot will be allotted in December 2014," a statement says.
The project of bringing Kazakhstan's grain export to Iran up to 2.5 million metric tons in the future is among the priorities. Moreover, this project is included in the "road map" on trade-economic, mining and investment cooperation between Kazakhstan and Iran, the ministry said.
Currently, a terminal in the Iranian province of Golestan is the only new grain terminal outside the country. A decision about the construction operations was taken.
October 15 2014, 10:15