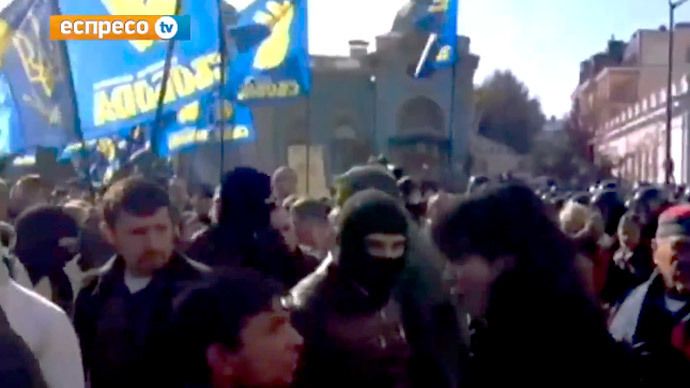 Kiev police are deploying additional forces around the parliament building after a group of demonstrators started throwing smoke and stun bombs at guards in an apparent reprisal over MPs' failure to honor past nationalists.
Streaming video from the scene showed officers in riot gear standing in tight formations near the building, as occasional bangs from exploding stun grenades were heard in the distance.
The protesters launched their offensive shortly after Ukrainian MPs voted against considering a bill, which would treat Ukrainian nationalists, who fought against Soviet troops during World War II, as war veterans.
Tuesday is the anniversary of the UPA (Ukrainian Insurgent Army), an armed Ukrainian nationalist organization that at one point during the war sided with the Nazis to fight against Russian troops. The organization was accused of war crimes, including the killings of Jews and Poles in Ukraine, and was hunted down after Moscow fought off the Nazi invasion and took control of Ukraine again.
Modern Ukrainian nationalists from the Svoboda party are celebrating the anniversary with rallies across the country. The party's flags as well as those of the radical Right Sector movement can be seen in the crowd of people encircling the parliament building.
The bill, which MPs decided not to consider on Tuesday, would grant surviving UPA members benefits similar to those given to war veterans. The bill was submitted by the Svoboda party.

Broadcast live streaming video on Ustream
October 14 2014, 15:28