By Zulfiya Bainekeeva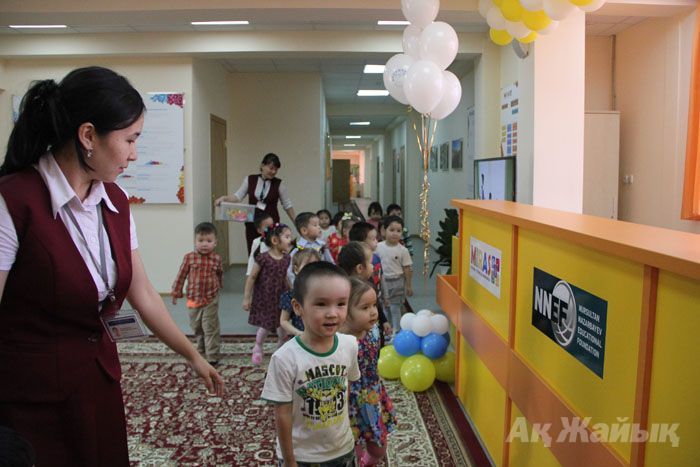 "Tengizchevroil" built for the children of its national employees an innovative school. The training program for the school was developed by Nursultan Nazarbayev's Educational Fund (FONN). The official opening of the school took place on October 8. The cost of the project is not disclosed.
During the recent Kazakhstan-Russian Forum of Interregional Cooperation the journalists were surprised to find in a short, but highly busy Nazarbayev's program an item about the visit to the new kindergarten in Nursaya. Everything became clear when they saw Dinara Kulibayeva, the president's average daughter, on the spot. The richest woman of Kazakhstan (with the wealth of 1,8bn dollars) founded and heads since 1998 the public educational fund named after her father. The fund is known in Kazakhstan for creation of prestigious kindergartens and schools of international caliber. The annual training in such schools costs for RoK citizens 1,2mln in a kindergarten up to 4,1mln tenge in senior classes of schools. The tariff for the foreigners is higher.
"Miras" school in Atyrau is the branch of this network, that so far existed only in Almaty and Astana. The new kindergarten in the oil capital started its work at the beginning of this summer. Parents pay a monthly fee of 110 dollars out of 550. The rest is paid by the employer.
The kindergarten impresses with its sizes and equipment: furniture, training materials and tutorials were purchased in Europe. It has its own 24-hour security service and both entrances are equipped with metal detecting frames. Children receive preventive massages and a daily portion of oxygen cocktails. In the kindergarten there are 350 children in 16 groups and 110 people in staff. The area of the building is 5,4 thousand square meters and the total area is 1,1 hectares.
The magnificent conditions of the school by local standards is the mandatory requirement of FONN that is described on its website: "The organizations of the Education Fund differ not only with its innovative content, but also with the esthetics of architecture, functional capabilities of its educational buildings, with light and spacious classes, equipped with modern equipment laboratories, sports complexes, music halls and fine art studio".
Photo of the author
October 14 2014, 12:43