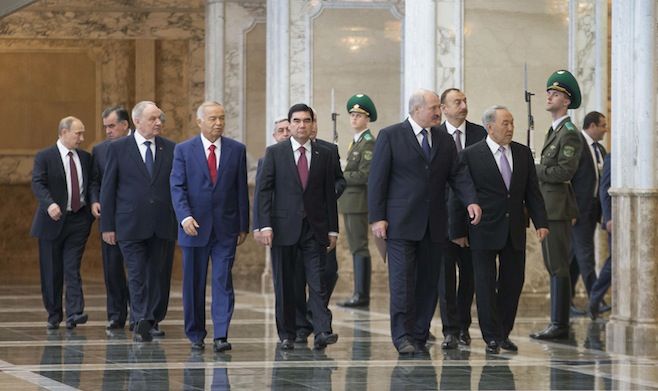 (L-R) Russia's President Vladimir Putin, Tajikistan's President Emomali Rahmon, Moldova's President Nicolae Timofti, Uzbekistan's President Islam Karimov, Armenia's President Serzh Sargsyan, Turkmenistan's President Gurbanguly Berdimuhamedov, Belarus' President Alexander Lukashenko, Azerbaijan's President Ilham Aliyev and Kazakhstan's President Nursultan Nazarbayev walk before posing for a family photo during a summit of the Commonwealth of Independent States (CIS) in Minsk, Belarus.The Eurasian Economic Union's regulations will not apply to Nagorno-Karabakh when Armenia joins the EEU under a compromise on Friday that settled a "sensitive issue", Kazakhstan President Nursultan Nazarbayev announced.
This means "there are no obstacles to a treaty on Armenia's accession to the Eurasian Union," Nazarbayev told a meeting in Minsk of the Supreme Eurasian Council.
At a council meeting in May, Nazarbayev cited "a letter from the president of Azerbaijan saying that… the treaty on Armenia's accession to the EEU must apply to what is its territory within international borders as recognized by the United Nations."
At that time Nazarbayev told Armenian President Serzh Sargsyan that Armenia would be best-advised stick to the principle it had "used in its accession to the World Trade Organization to avoid irritating our fellow president in Azerbaijan."
Later, Sargsyan told Armenia's Public Television that the country's planned accession to the EEU would not cover Nagorno-Karabakh. "Armenia will join within the borders that it has itself recognized, just as it has followed this principle in joining and being a member of the rest of the international organizations [that it has joined]."
October 14 2014, 10:10