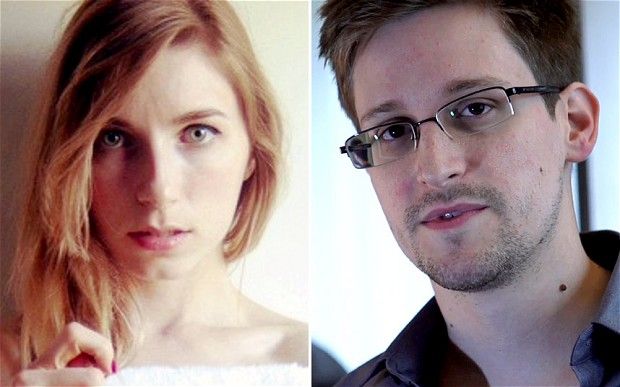 Lindsay Mills and boyfriend Edward Snowden.No great spy tale is complete without a love angle. It's as if spies need something to rely on, as their daily lives are defined by subterfuge. When the tale of Edward Snowden's heroism/treason (delete as appropriate) came to light, the love angle was bathed in pain.
It was said (allegedly even by her father) that his dancer girlfriend, Lindsay Mills, had been abandoned in Hawaii while Snowden sought fame/refuge (delete as appropriate).
Last night, however, love's labor was found to be still alive in the land of the kolkhoz. The premiere of a new Snowden documentary, "Citizenfour," revealed that far from being abandoned, Mills is now living with her man in Moscow (and it also apparently confirms that there's a second leaker).
As The Intercept reports, the movie, made by its co-founding editor Laura Poitras, reveals that Snowden "is now living in domestic bliss." Yes, in Moscow, where henow lives on a three-year permit.
I know that Moscow and bliss haven't often been two words that adorn the same sentence. Unless that sentence happens to be "Moscow is bliss for only a few."
Somehow, the concept of Moscow -- especially in spy movies -- offers ruthlessness and foreboding, rather than pelmeni and canoodling.
But if a woman has truly given up the serenity and beauty of Hawaii for the chill and gilded austerity, one can only admire such a level of love.
In these days of instant virtual contact, lovers are sometimes reluctant to move 10 miles to be with their lovers. Cross-country relationships offer all the perils of a fractious, shoe-banging UN summit.
So if Mills was prepared to take her heart into her hands and be guided by it, who will not be moved?
Snowden told The Guardian of the movie: "I hope people won't see this as a story about heroism. It's actually a story about what ordinary people can do in extraordinary circumstances."
Moving to Moscow to be with your man, whose life is likely threatened, is extraordinary.
"Citizenfour" opens in movie theaters October 24. I wonder which parts will make people weep the most.
October 13 2014, 01:35