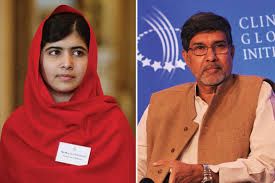 The 2014 Nobel Peace Prize has been awarded to Kailash Satyarthi and Malala Yousafzay for their work on promoting children's rights.
The Norwegian Nobel Committee said the two were chosen for "their struggle against the suppression of children and young people and for the right of all children to education."
Indian Kailash Satyarthi is a child rights activist who founded the Global March Against Child Labor. He has led the fight against child slavery and enabled the rescue of more than 80,000 children over three decades.
Pakistani schoolgirl Malala Yousafzay made the headlines for defying the Taliban. She was shot in the head by a Taliban gunman for arguing that girls have a right to go to school. She has since set up the Malala Fund to help girls access their right to education. At 17 she is the youngest winner of the prize.
The prize, of just under 1 million euros will be presented in Oslo on December 10.
There were a record number of 278 candidates this year. Those candidates nominated for the prize and the opinions of the members of the Nobel Committee are kept secret for 50 years.
October 10 2014, 16:13