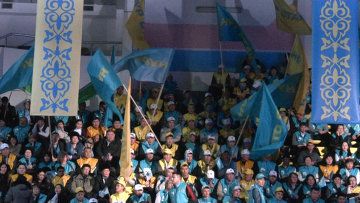 Astana hosts the 2nd Congress of Zhas Otan, the youth wing of Nur Otan Party. The Congress takes place in the republican "Sary Arka" cycle tack.
Nursultan Nazarbaev, the RoK President and the Chairman of Nur Otan People's Democratic Party, participated in the work of the Congress.
There are 4 issues on the Congress agenda: adoption of youth policy strategy, election of "Zhas Otan" Party executive secretary, election of "Zhas Otan" Central Council and introduction of amendments and additions to Zhas Otan Charter.
Over 1,000 delegates from all regions of Kazakhstan are participating in the Congress.
WKT citing IA Novosti-Kazakhstan
November 16 2012, 14:50