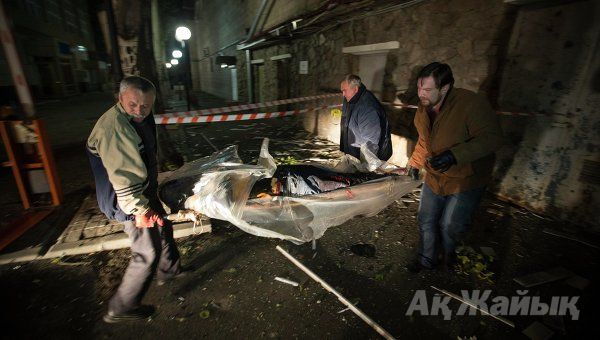 People carry the body of a victim killed by recent shelling near the Red Cross office in Donetsk, eastern Ukraine, October 2, 2014.The death of a Swiss Red Cross worker Laurent Etienne DuPasquier in Thursday's shelling of Donetsk emphasizes the fragility of a ceasefire in the east of Ukraine, United Nations press service said in a statement.
On Thursday the Defense Ministry of the self-proclaimed Donetsk People's Republic said that Swiss citizen DuPasquier was killed in heavy artillery bombardment of central Donetsk in eastern Ukraine. The International Committee of the Red Cross later confirmed the information.
"The Secretary-General is seriously concerned over the dangerous surge in fighting in recent days and mounting civilian casualties. These recent, tragic incidents underscore the fragility of the current cease-fire and the importance of ensuring a secure environment in south-eastern Ukraine that will allow humanitarian actors to carry out their work and deliver critical assistance to those most in need," the statement reads.
According to the statement, UN Secretary General Ban KI-moon "expects all concerned to strictly adhere to their commitments under the Minsk Memorandum agreed on 19 September in order to ensure a sustainable cease-fire" and acknowledges the necessity of redoubling "political and diplomatic efforts" in this direction.
The statement also underlines that a "return to full-scale fighting could be catastrophic for Ukraine, the region and beyond."
Ukraine has been engulfed in a violent internal conflict since mid-April, when Kiev began its military operation against independence supporters in the southeastern regions of the country. The conflict claimed the lives of more than 3,500 people, according to the UN.
The sides agreed on a ceasefire at a meeting of the Contact Group on Ukraine held in Minsk on September 5.
Since the establishment of the ceasefire regime, the conflicting sides have repeatedly accused each other of violating the agreement. However, the OSCE stated that the truce was generally holding.
October 3 2014, 14:50