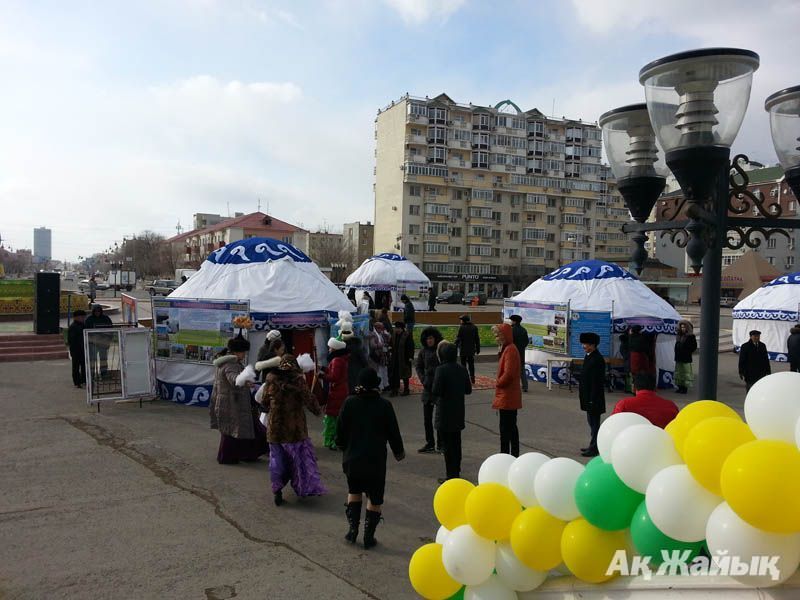 On October 4, at 10 o'clock in font of the sport center in Balykshi village the concert and national games tournament (Kazakh wrestle, asyk games (asyk- sheep knuckle bones), archery, mini-soccer) will be organized.
The residents of Nursaya district will enjoy the concert that starts at 10:00 in front of "Ataba" supermarket.
The water polo tournament will start at 10:00 am at the central swimming-pool and a concert will be organized on the square in front of "Munaishi" stadium. After the concert an agricultural fair will be opened. Championship of the city in karate godzyu-ryu will start at "Munaishi" sports complex at 14:00pm.
On October 4-5 the semi-final of KVN game ("Club of the Funny and Inventive") will start at the House of Culture named after D. Nurpeisova. The open league and school league will participate in the contest.
Many events will take place on October 4 on the square in front of the regional governor's building. At 11 o'clock the track and field athletics cross will be organized for the young people and at 15.00pm a festive concert of the Zhyloi district will take place.
The winners of the following competitions – "The Best Community House Yard", "The Best Community House Entrance" and "The Cleanest Community House Yard" will be awarded with prizes.
Gala concert of the Kazakhstan stars will start at 20:00hrs in front of the regional governor's building. The celebration of the day of the city will end with festive fireworks.
October 3 2014, 11:10