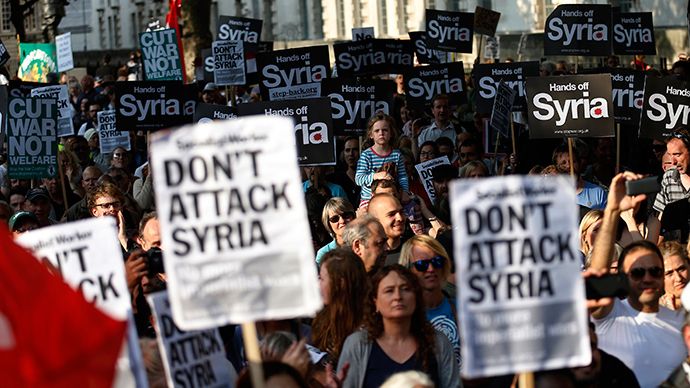 Protesters listen to speeches during a rally against the proposed attack on Syria in central London August 28, 2013 (Reuters)Anti-war activists have staged an emergency protest outside Downing Street on Thursday evening, after Prime Minister David Cameron said the UK is ready to "play its part" in airstrikes on ISIS targets in Iraq. rt.com reports.
Hundreds of protesters lined the pavements outside Downing Street in London to protest potential British air strikes against targets in Syria and Iraq. The demonstrators chanted anti-war slogans and carried banners alongside a small police presence, with Labour MP Jeremy Corbyn making a speech.
"Why are we going into yet another war, into a region full of natural resources that the West so covets, using arms that we've sold to every regime in the region, proposing more arms, more bombs, more war," British MP Jeremy Corbyn told the crowd.
Tansy Hoskins, an activist with the Stop the War Coalition, said, "I was against the bombing of Iraq 10 years ago and I am against it now… Everything we said would happen, has happened, things have got worst."
Speaking at the UN General Assembly in New York on Wednesday, Cameron called Islamic State formerly known as ISIS or ISIL) an "evil against which the whole world must unite".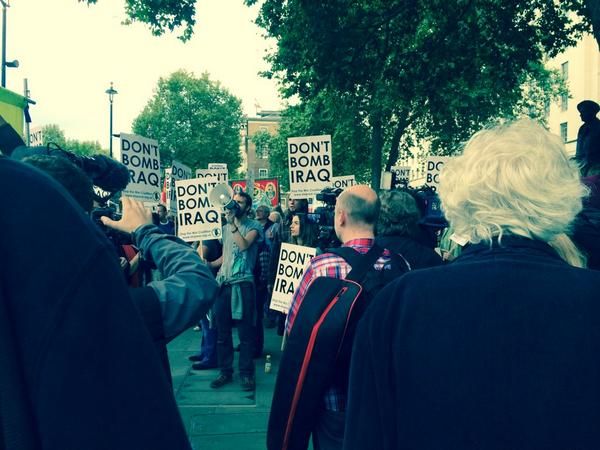 Referring to the 2003 Iraq invasion by George W. Bush and Tony Blair, the current PM said "past mistakes" must not be an "excuse" for inaction and that leaders must not be "frozen with fear".
As MPs prepare to vote on British intervention on Friday, the Stop the War coalition is calling on them to resist the planned assault.
The Stop the War Coalition, which organized millions of people in mass protests to oppose the 2003 Iraq invasion, say any further western military intervention will only inflame the situation.
"Escalating Western military intervention will do nothing to stop [ISIS] but will create more suffering and further destabilise the region," Stop the War said, warning that bombing raids will only increase hatred of the west.
A number of MPs, including Labour's Jeremy Corbyn and Diane Abbott, and the Green party's Caroline Lucas, as well as leading trade unionists, academics and cultural figures, have issued a statement opposing further UK military involvement.
"While we all reject the politics and methods of ISIS, we have to recognise that it is in part a product of the last disastrous intervention, which helped foster sectarianism and regional division," their statement reads.
"It has also been funded and aided by some of the west's allies, especially Saudi Arabia. More bombing, let alone boots on the ground, will only exacerbate the situation. We urge the government to rule out any further military action in Iraq or Syria."
Last Friday, France joined the US in strikes against ISIS targets in Iraq. A coalition led by the US and including five countries from the Gulf and Middle East began strikes against targets in Syria early on Tuesday.
September 26 2014, 10:42