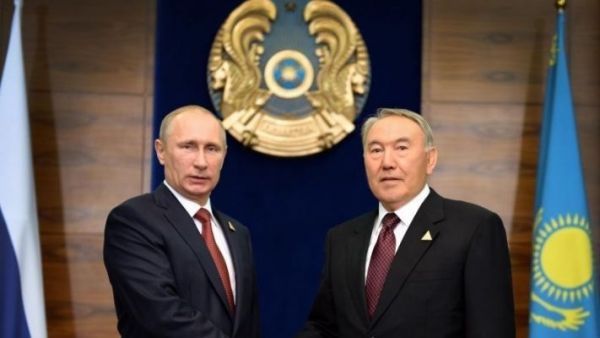 Russian President Vladimir Putin will visit the oil hub city of Atyrau in western Kazakhstan on September 30 to join Kazakh President Nursultan Nazarbayev at a forum for interregional cooperation between the two countries, the Kremlin press service said on Wednesday, azh.kz refers to infrom.kz.
This year's forum is entitled 'Innovations in Hydrocarbon Sphere', the press service said, adding that participants included heads of the countries' key ministries and agencies, heads of several Russian and Kazakh regions, and business representatives.
Annual meetings between the two countries' government officials and business representatives are held in various regions of Russia and Kazakhstan since 2003. The latest encounter took place in Yekaterinburg, Russia's fourth-largest city, in the Urals.
"Before a plenary session of the forum, the presidents will hold separate talks on current issues of Russia-Kazakhstan relations and integration cooperation within the Eurasian Economic Union," the Kremlin said, adding that signing of joint documents, including agreements on cooperation between the countries' regions, was expected.
The Eurasian Economic Union, which envisages the free movement of goods, services, capital and workforce and is based on the Customs Union of Russia, Belarus and Kazakhstan, will become operational from January 1, 2015, ITAR-TASS reports.
A treaty to create the union was signed by presidents of Russia, Kazakhstan and Belarus Vladimir Putin, Nursultan Nazarbayev and Alexander Lukashenko in Astana on May 29.
September 24 2014, 15:35